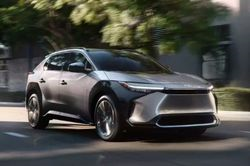 SAN FRANCISCO (PRWEB) December 13, 2022
San Francisco Toyota, a dealership in San Francisco, has now added the latest 2023 Toyota bZ4X to its inventory. The brand-new electric car is comfortable, has a wide selection of standard features, and has fair battery life. However, its minimalist interior design may only be to someone's taste. Another distinctive quality of electric vehicles is their ability to produce the most torque while starting from a stop. There is some of that with the brand-new bZ4X SUV. With 124 lb.-ft. of torque at each end, the all-wheel-drive model can reach 60 mph in 6.5 seconds.
Shoppers can test drive the new 2023 Toyota bZ4X at the San Francisco dealership and take a virtual vehicle tour with the sales personnel. The dealership also has a cutting-edge servicing facility that serves Daly City and Greater Marin County. The service center provides several services, including coolant flushing, lube, oil, filter changes, muffler and exhaust repair, front-end alignment, and more. For drivers who want prompt care, it also provides express maintenance.
Customers interested in learning more about the servicing deals at San Francisco Toyota are urged to stop by the dealership at 3800 Geary Blvd, San Francisco, CA 94118, or visit the dealership's website at https://www.sftoyota.com/. Call 415-750-8300 with any queries.