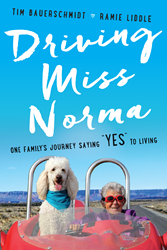 'I'm 90 years old. I'm hitting the road!'
San Francisco, CA (PRWEB) May 11, 2017
Before she became known as the adventurous nonagenarian road tripper and international sensation "Miss Norma" with over 500,000 devoted Facebook followers, Norma Jean Bauerschmidt lived a quiet, modest life for 90 years in rural northern Michigan, never crossing a state line let alone a zip line. But following the death of her husband of 67 years and after being diagnosed with a terminal illness only two days later, Miss Norma breaks with her way of life, connects on a deeper level than ever before with her son and daughter-in-law, discovers for the first time how to fully embrace life, and unwittingly inspires thousands along the way.
In DRIVING MISS NORMA: One Family's Journey Saying "Yes" to Living (HarperOne; Hardcover; May 2, 2017), Norma's son Tim Bauerschmidt and daughter-in-law Ramie Liddle document their remarkable year-long, cross-country trip in a motor home. Along with their 73-pound Standard Poodle, Ringo, they share some of the adventures, love, and life lessons they learned from their time on the road together. After Miss Norma was told that she had uterine cancer, she was advised to undergo surgery, radiation, and chemotherapy. But instead of confining herself to a hospital bed for what could be her last stay, Norma rose to her full height of five feet and told the doctor, "I'm ninety years old. I'm hitting the road."
As this once timid woman says "yes" to living in the face of death, she tries regional foods for the first time, mounts up for a horseback ride, and even reaches for the clouds in a hot air balloon. With each passing mile (and one educational visit to a cannabis dispensary), Miss Norma's health improves and conversations that had once been taboo begin to unfold. Norma, Tim, and Ramie bond in ways they never had before, and their definitions of home, family, and friendship expand. Stop by stop, state by state, they meet countless people from all walks of life—strangers who become fast friends and who welcome them with kindness and open hearts.
Driving Miss Norma is the charming, infectiously joyous chronicle of the road trip of a lifetime. It portrays a transformative journey of living life on your own terms, and shows us that it is never too late to begin an adventure, to inspire hope, or to become a trailblazer. Infused with this irrepressible nonagenarian's wisdom, courage, and generous spirit (and filled with 16 pages of color photographs), this book reminds us that life is beautiful and precious, and that family, fun, and self-discovery can happen at any age.
About the Authors:
Tim Bauerschmidt and Ramie Liddle are professional nomads who retired by the age of 50 to travel cross-country full-time in their Airstream trailer with their dog Ringo. They've explored every state but Alaska and consider the Mexican Baja peninsula the closest thing to home. More at: https://www.facebook.com/DrivingMissNorma/
Praise for "Driving Miss Norma"
"Depicting the ageless human capacity to learn and grow, the author celebrates life and offers a heartfelt vision of what dying a good death really means. An uplifting and life-affirming memoir." –Kirkus Reviews
"[an] endearing memoir…..offers profound insights into how we choose to live." —Publishers Weekly starred review
"This is a delightful chronicle of a family determined to celebrate life rather than dread death, and everyone can learn from their courage." –Booklist starred review
Events still to come:

# # #