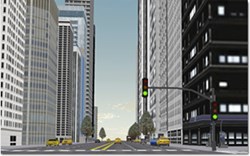 ...it [Stisim Drive] provides cost-effective solution and reliable data that could be used in instruction, research and even rehabilitation.
(PRWEB) December 18, 2013
A new study conducted by the American Automobile Association revealed that young adults today were ignoring the warning regarding texting while driving. In response to it, Stisim Drive commented that driving simulation systems could show them the danger the habit presents and encourage them to quit it.
In a report from washingtonpost.com posted on December 16, 2013, it was said that drivers at ages 19-39 were particularly the ones who are mostly texting or using their cellular phones while on the road. It detailed that there's about 40 percent of them who practice the distracting the habit.
Jake Nelson, AAA director of traffic safety advocacy and research, said in the report that the use of phone almost quadruples the risk of car accidents as a previous study discovered. But despite the finding that young adults text and drive, he stated that everyone could be a victim of distracted driving. And so, he said that the best to do is to hang and drive.
Below is a part of the said report.
"Let's start with the good news: Only 1 percent of drivers older than 75 say they text while behind the wheel. Now the bad: It gets a whole lot worse from there.
"More than 40 percent of people between 19 and 39 years old say they text, and 10 percent of them say they do it regularly. And more than half of those in a new survey by the AAA Foundation for Traffic Safety say they talk on their cellphones while they drive."
According to the report, distracted driving causes the 10 percent of all crashes and 387,000 injuries. Given that, Stisim Drive asserted that the use of phone while driving must never be observed. And as it stated, driving simulation systems could show how dangerous of a habit it is.
But that is not just what the machines could do, it said. Because they could let everybody see first-hand the dangers that texting while driving could bring, it stated that, indirectly, they could also help in transforming them to become safer drivers.
Directly, driving simulators could do that as well by allowing drivers to practice on them, it also said. The data the machines presents determine the weaknesses in their driving skills, thus letting them to know which aspects to improve, it explained.
However, of the driving simulation systems, Stisim Drive said that its own are the best. And as it cited, that's because it provides cost-effective solution and reliable data that could be used in instruction, research and even rehabilitation.
Moreover, it stated that its driving simulator software is loaded with all the driving scenarios that could happen in real life. With that, it said that any driver would know exactly the right things to do during such situations with the help of the driving simulation.
To learn more about Stisim Drive, its driving simulation systems and driving simulator software, readers could go to its website at stisimdrive.com.