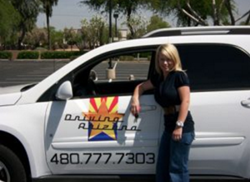 Chandler, AZ (PRWEB) August 04, 2017
Driving Arizona, which was recently named the No. 1 defensive driving school in Chandler, AZ, by DefensiveDriving.org, is celebrating its sixth year teaching safe driving. "It has been an honor to serve Arizona these past six years and we are proud to have helped so many teens and new drivers learn safe and defensive driving," said Dave Paul, owner of Driving Arizona, who has extensive experience in driver training school leadership and instruction and has been actively involved in the professional driving industry since 1975.
Driving Arizona trainers are highly trained, contracted and possess years of education and training experience. Driving Arizona, which has an A+ rating with the BBB, provides an ideal environment for learning and acquiring the skills and tools needed to become a highly skilled driver.
"I took the beginner course and it was totally worth it. Being an international student driving in the USA was a challenge for me but the instructor explained all the rules in detail and helped me gain confidence by making me drive on the highway, narrow streets and many other situations," said client Rahul S. "I highly recommended it to everyone."
About Driving Arizona
Driving Arizona is contracted through the Arizona Department of Transportation Motor Vehicle Division. Driving Arizona offers three thorough and extensive driver training programs designed to meet the needs of its students, including Beginner, Intermediate and Skilled. For more information, please call (480) 777-7303, or visit http://www.drivingarizona.net. Driving Arizona is located at 1805 E. Elliot Road, Suite 102, Tempe, AZ 85284.
About the NALA™
The NALA offers small and medium-sized businesses effective ways to reach customers through new media. As a single-agency source, the NALA helps businesses flourish in their local community. The NALA's mission is to promote a business' relevant and newsworthy events and achievements, both online and through traditional media. The information and content in this article are not in conjunction with the views of the NALA. For media inquiries, please call 805.650.6121, ext. 361.