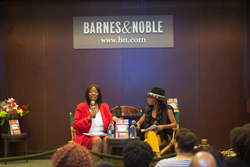 These are the things that a Mother or somebody in the community has to point out to Children and they really haven't yet.
New York, NY (PRWEB) May 02, 2017
Last month on April 13, 2017, Barnes & Noble hosted Dr. Karen R. January's Book Signing to present "Lessons Mama Never Taught Me". The Q&A was moderated by Actress Imani Hakim, Former Child Star from UPN's "Everybody Hates Chris", Netflix's "Burning Sands" and Syfy's "Sharknado 4." Imani asked Dr. January icebreaking questions that compelled the audience to voice their opinions, and helped prepare parents for answering questions their children may ask about sex, drugs, relationships and overcoming bullying.
Dr. January's audience was a reflection of humanity uniting to share best practices on how to guide children through life's circumstances. The inclusion of diversity during the Q&A highlighted the purpose of "Lessons Mama Never Taught Me" being shared in global communities to help individuals and families overcome personal challenges. The Male audience was not timid about voicing their opinions or experiences, particularly about the conversations they have with their daughters regarding self-worth; and how children behave in public with and without their parents. The Women who joined the conversation were more vocal about not lying or having vague conversations with their children regarding taboo topics.
Autographed copies of "Lessons Mama Never Taught Me" by Dr. January are available at Barnes & Noble, Upper West Side 2289 Broadway New York, NY 10024.
"Lessons Mama Never Taught Me" (LMNTM) addresses universal issues which impact women, men and children of different cultures, and shares how to overcome life's burdens. "LMNTM" captivates readers with candid stories about extramarital affairs, abortion, internet dating, abuse, chemical dependency, mental illness, rape, gender identity, and topics that have been minimally addressed or not addressed at all. The book follows dramatic real - life stories of ten women who fell into the depths of darkness because of specific lessons never taught by their mothers.
Dr. January has 25 years experience as a teacher, counselor, administrator and behavioral specialist in the Chicago Public School system. She has been a professor of Psychology at Chicago State University, an online advice columnist for the Chicago Defender Newspaper and reoccurring guest on WVON 1690 The Talk of Chicago radio show.
Dr. January has initiated numerous youth programs that earned her the prestigious Oppenheimer Family Foundation Award. In addition to the "Girl Talk" workshops which feature topics in "LMNTM". Dr. January's credentials are a B.S. in Special Education with a minor in Psychology, an M.S. Ed in Counseling and Guidance, Community Mental Health and an Ed.D in Educational Leadership.
The Q&A moderator Imani Hakim landed her first television role in 2005 as one of the leads in the hit TV show "Everybody Hates Chris," followed by guest star appearances on many shows such as "ER," "CSI," "State of Affairs," "The Replacements," "Wizards of Waverly Place," and others.
In 2014, Imani earned two Movieguide Awards portraying 13 year-old Olympic Gold Medalist Gabby Douglas in the Lifetime movie "The Gabby Douglas Story." Her performance awarded her "Outstanding Actress in a TV Movie or Mini-Series." In feature films she had a lead role in "Chocolate City" co-starring Vivica Fox, and most recently in the Sundance feature "Burning Sands" with Alfre Woodard and Steven Harris.
RELATED LINKS:
http://www.prweb.com/releases/2017/LMNTM/prweb14217030.htm
For more information about Dr Karen R. January, Guest Speaker Booking or Girl Talk Workshops visit http://www.drkayjay.com. Submit media inquiries and Interview request to Lakita Backum with Lasakb, Public Relations & Marketing via email at LakitaBackum(at)lasakb(dot)com.
For all media inquiries and appearance requests regarding Actress Imani Hakim, please contact Deborah Griffin (publicist) by email at deborahmckj(at)yahoo(dot)com.