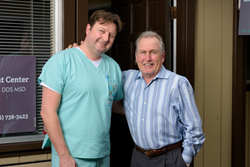 "Rik and I believe in the same values - a quest for continued education and better options for our patients, an ethical connection built on trust, and a passion for the highest possible quality in our clinical care." - Dr. Jochen Pechak
Sunnyvale, CA (PRWEB) March 30, 2016
Dr. Jochen Pechak of Palo Alto is happy to announce the successful acquisition of Sunnyvale periodontist Dr. Rik Vanooteghem's practice. Dr. Vanooteghem, who has been a fixture in the Sunnyvale dental community for over 25 years, recently and unexpectedly found it necessary to retire for health reasons. This means that the location remains open, and will continue seeing both existing patients and new ones referred by local dentists.
"I and Dr. Rik have been close friends and colleagues for years," says Dr. Pechak, whose wife, Maya, was also close with Dr. Vanooteghem's wife, Kathy. "There was initially some confusion as to whether or not this means the closing of his practice; I am happy to report that this is NOT the case. Rik has asked me to take over his practice, in order to maintain continuity of care for his patient community."
Drs. Pechak and Vanooteghem are familiar faces to the Sunnyvale and Palo Alto communities; they co-sponsored continuing education events together, acted as co-directors of individual chapters of the Study Seattle Club, and have stepped in at varying times to handle each-other's patient load during illnesses or vacation breaks.
"Rik and I believe in the same values - a quest for continued education and better options for our patients, an ethical connection built on trust, and a passion for the highest possible quality in our clinical care," Dr. Pechak commented. "To that end, I am relocating one of my own practice locations, and setting up with my team in Rik's original offices."
The arrangement allows existing patients to receive care in the familiar location, and also permits continuance of referrals to that location as well as to Dr. Pechak's main practice in Monterey, where he has built a reputation as "The Dentist's Dentist". His former location by Stanford Medical Center will be closing, and his staff relocation to Silicon Valley.
An Open House is being planned for the near future, so Dr. Pechak can become better acquainted with his new patients. Appointments are being accepted at the Sunnyvale location, and can be scheduled by calling (408) 738-3423.
For more information about Dr. Pechak, and the Perio & Implant Center, visit his website at http://www.GumsRus.com or on your mobile device http://www.DrPechakApp.com