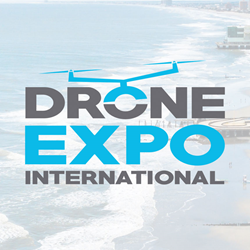 From renewable energy to agriculture to photography and everywhere in between, this event invites business owners, drone enthusiasts and hobbyists to come together and benefit from the use of drones and all of the possibilities that this technology provides. - Nick Barter, Director of Operations
HOLMDEL, N.J. (PRWEB) December 20, 2018
Drone Expo International has announced that Atlantic City has been chosen to host its 2019 Drone Expo East trade show and conference. This four-day event will take place at the Atlantic City Convention Center from Thursday, June 27 through Sunday, June 30, and will host over 20,000 drone enthusiasts and industry users, promising to be the largest and most diverse exposition of its kind on the US East Coast.
Over 400 exhibitors ─ and the world's largest indoor drone racing track ─ will be filling all 500,000 square feet of the Atlantic City Convention Center for this family-friendly event, providing attendees with access to some of the most innovative and high-tech drone technologies available on the market today. The show will also include on-site training sessions and product demonstrations from some of the world's largest drone manufacturers.
Drone Expo East caters to a wide range of professionals and prosumers, including business users in the public safety, agriculture, telecommunications, infrastructure, insurance, and energy sectors. Multiple industry-specific educational tracks have been announced, offering daily keynote addresses, expert panel discussions, and more than 120 seminars covering important topics and emerging issues in the drone industry across various business verticals.
"Industries of all types have rapidly adopted cutting-edge drone technologies to streamline business operations and reduce overall costs," said Drone Expo East's Director of Operations, Nick Barter. "From renewable energy to agriculture to photography and everywhere in between, this event invites business owners, drone enthusiasts and hobbyists to come together and benefit from the use of drones and all of the possibilities that this technology provides."
In addition to the exposition floor, displays, educational events and networking opportunities, Drone Expo East will host training and qualifying rounds for the 2019 International Drone Racing League Championship (https://idrlc.com) which will be held in August, as well as an International Drone Videography and Photography competition with one of the largest prize pools ever assembled in North America for this exciting new field.
For more information about the show, including ticketing, group discounts, and special event passes, please visit http://www.DroneExpoInternational.com.
About Drone Expo International
Drone Expo International curates exposition events that support and inspire drone businesses, enthusiasts, professionals and hobbyists around the world. With its largest show to date booked in the US for June of 2019, future events are planned to be held on the US West Coast and on different continents in 2019 and 2020.
__________________________________
Drone Expo International
2137 Route 35, Holmdel, NJ 07733
Toll Free: 844-DroneExpo
Contact: Amy Krier at media@droneexpointernational.com