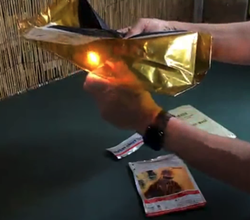 Smoke hoods can help you get out of your home, into your car and help you reach a safety zone.
TARZANA, Calif. (PRWEB) May 12, 2021
First Aid Global LLC has been selling Smoke Escape Hoods for twenty years to offshore oil platforms, cargo vessels and air transport companies as well as to American industries alike. Now, they're making an impact into the American prepper markets as a solid method of fire escape in the single family dwelling.
The number one cause of death related to fires is smoke inhalation. Not only does smoke contain toxic chemicals that can kill you, but it also displaces the oxygen you actually need to breathe!
"Our HK Pocket Smoke Escape Hood is made of a NASA-grade Polyamide Film which resists high temperatures to 450 degrees C and has passed the UL test in the USA for fire and tear resistance," says a First Aid Global LLC company spokesperson. "You can see in one of our video illustrations that the material won't melt when held directly above a butane flame. The six layered carbon-activated filters give you up to 30 minutes of escape time and the hood has ample room for those who must wear their glasses while escaping a smoke-filled environment. I think one of the biggest benefits is that one size fits all - children to adults. The rubber neck seal creates a hermetic seal and allows the wearer to simply stretch the hood open and pull it over your head."
Now that summer is approaching and the Western United States are once again suffering drought-like conditions, we can only assume that forest fires will be part of the norm. Smoke hoods can help you get out of your home, into your car and help you reach a safety zone. The HK Smoke Escape hood can be found at http://www.firstaidglobal.com