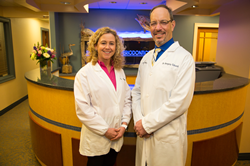 LANAP is the only laser solution that has received FDA clearance to regenerate bone and soft tissue lost to gum disease.
Waterford, CT (PRWEB) November 26, 2019
Established periodontists, Drs. Gregory Toback and Marianne Urbanski of Shoreline Periodontics, provide minimally invasive laser gum disease treatment for patients in Waterford, CT. Specifically, this periodontal team offers LANAP® laser gum surgery at their two convenient office locations. This revolutionary method uses modern dental lasers and an FDA-cleared protocol to remove the harmful, disease-causing bacteria that causes gum disease, leaving healthy tissue unharmed and even promoting advanced healing.
As a laser dentistry alternative to more traditional and invasive osseous surgery, LANAP offers several key advantages. First, because LANAP requires no scalpels or sutures, patients enjoy faster healing times and minimal discomfort during and after treatment. For those who experience dental fear or anxiety, Drs. Toback and Urbanski also offer a range of sedation dentistry services to ensure every patient is comfortable during their treatment.
Another benefit of LANAP laser dentistry is the precision afforded to the periodontists administering it. The dental laser used to offer LANAP is the PerioLase® MVP-7™. This modern dental tool can specifically pinpoint areas of unhealthy gum tissues and thus remove destroyed tissue without affecting the healthy surrounding tissue. In fact, LANAP is the only laser solution that has received FDA clearance to regenerate bone and soft tissue lost to gum disease. This groundbreaking discovery ensures gum disease sufferers restore their smile faster and prevent harmful symptoms sooner than alternative surgeries can provide.
Without regular interventions from a periodontist, a gum disease specialist, patients with gum disease can expect to experience progressive degradation of their oral health. Over time, gum disease moves from early gingivitis stages to advanced periodontitis. The only way to avoid losing teeth and bone is by partnering with a trained periodontist. With decades of leading the industry in modern periodontal techniques like LANAP, Drs. Toback and Urbanski are also respected as speakers on new discoveries in the field of periodontics.
Individuals in the Waterford, CT area who present the initial or late-stage warning signs of gum disease such as bleeding or swollen gums, bad breath and loose teeth are invited to contact Drs. Toback and Urbanski to discuss gum disease treatments include LANAP. To contact their New London, CT office, call 860-443-2428. Their Westerly, RI office can be reached at 401-596-0000. Appointments can also be scheduled online at http://www.shorelineperio.com.
About the Periodontists
Shoreline Periodontics is a periodontal practice offering personalized dental care for patients since 1998 and is located in New London, CT and Westerly, RI. Leading board-certified periodontist, Dr. Gregory A. Toback, received his B.A. from St. John's University and his Doctorate of Dental Medicine from the University of Connecticut. He also received advanced training in periodontics and dental implants at the University of Texas Health Science Center in San Antonio. Dr. Marianne Urbanski has been voted one of Connecticut's top dentists for more than seven years by Connecticut Magazine. Dr. Urbanski graduated cum laude from the College of Holy Cross in Worcester, Massachusetts where she earned a Bachelors' degree in Biology. She also received her Doctor of Dental Medicine degree and her Masters' of Dental Science degree from the University of Connecticut Dental School. Dr. Urbanski and Dr. Toback pride themselves on offering caring, professional treatment to each patient. Dr. Toback and Dr. Urbanski focus on minimally invasive surgeries including LANAP® laser gum surgery and are certified to offer the Chao Pinhole Surgical Technique™ for treatment of gum recession. To learn more about Shoreline Periodontics and their dental services visit their website at http://www.shorelineperio.com or call 860-443-2428 for the New London, CT location, or 401-596-0000 for the Westerly, RI office.