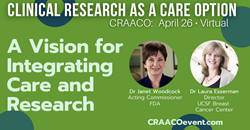 "Community sites, we learned during this pandemic, can be supported by specialized CROs or other organizations that supply the education and expertise to enable clinical research" Dr Janet Woodcock, Acting Commissioner, FDA
NEW YORK (PRWEB) April 15, 2021
The Conference Forum announced that Drs Janet Woodcock, acting FDA Commissioner and Laura Esserman, Director, UCSF Carol Franc Buck Breast Cancer Center, are confirmed in a joint keynote discussion at the upcoming 2021 CRAACO virtual meeting, April 26th at 11:45am ET.
Drs Woodcock and Esserman will discuss the tools, models and mindsets to integrate and improve the quality of clinical research and clinical care while reducing the burden for trial participation.
Dr Woodcock has long been a strong advocate for bridging the gap between clinical research and clinical care to allow more patients to have access to clinical research options. During a recent National Academies of Sciences, Engineering and Medicine (NASEM) workshop in early 2021, Dr Woodcock called for a renewed effort putting clinical research into community sites, to accelerate research and prepare for the next global health crisis.
While these smaller community sites don't have the same research infrastructure that academic medical centers do, Dr Woodcock told attendees that, "Community sites, we learned during this pandemic, can be supported by specialized CROs or other organizations that supply the education and expertise to enable clinical research."
Dr Esserman is the pioneering architect of I-SPY and I-SPY 2 adaptive platform trial models; that innovative clinical trial platform was adjusted to become I-SPY COVID, to rapidly identify the most effective treatments of acute respiratory distress syndrome (ARDS) in critically ill COVID-19 patients.
"We look forward to seeing these two incredible health leaders discuss why integrating clinical research and care is so critical and to get their thoughts on how we can get patients more access to clinical trials", said Valerie Bowling, Executive Director, the Conference Forum.
Drs Woodcock and Esserman's joint session is free and open to the public, but registration is required.
About Clinical Research as a Care Option:
The Clinical Research as a Care Option event (CRAACO) is the first conference dedicated to bringing together health systems, pharma, patients, regulators and innovators to address the value, challenges and success stories of integrating clinical research options in the clinical care space for the benefit of patients.
To learn more about the event, please visit CRAACOevent.com
About the Conference Forum:
The Conference Forum is a life science industry research firm that develops conferences, podcasts, webinars and newsletters primarily around how to get therapeutics to patients faster. They examine and challenge the complex ecosystem of drug development and delivery, bringing ideas together from a variety of sources to help advance clinical research with common goals that are patient-focused. They are committed to creating the best content, exchange of ideas and solutions among peers, as well as providing high-quality networking.
Learn more about the Conference Forum at theconferenceforum.org