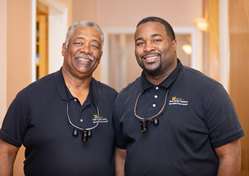 Each full mouth reconstruction treatment plan they craft is uniquely created to address each patient's specific dental concerns.
CLINTON, Miss. (PRWEB) February 21, 2019
Drs. Jonathan and Kenneth Nash of Nash Family Dentistry welcome new and existing patients in Clinton, MS interested in restoring their smiles through a full mouth reconstruction. Dr. Kenneth Nash brings decades of experience helping the community restore complete oral health and function. Dr. Jonathan Nash offers some of the latest trainings including advanced laser dentistry and CEREC® same-day crowns services. Each full mouth reconstruction treatment plan they craft is uniquely created to address each patient's specific dental concerns. Common reasons for patients to request full mouth reconstructions include conditions such as bleeding gums, bone loss, crooked or gapped teeth and missing teeth.
When working with full mouth reconstruction patients, Drs. Nash have a variety of services available to resolve functional and aesthetic problems. For instance, laser gum disease treatments enable patients suffering from the lasting effects of unmanaged gum disease to gain better oral health and stop damage to gum, teeth, and bone. The dental laser is minimally invasive and works without the need of scalpels, and sutures leading to only minimal bleeding. Without treatment by a dental professional, gum disease will progress and end in tooth loss and deterioration of the jawbone. Initial signs of gum disease include bleeding gums, swollen gums, red gums and bad breath.
Orthodontics may also be part of a full mouth reconstruction. Nash Family Dentistry provides ClearCorrect braces for patients with teeth that are crooked, gapped, crowded or misaligned. The ClearCorrect system uses clear plastic aligners to consistently move teeth in a discreet and gentle manner. Each ClearCorrect treatment path is uniquely laid out to fit the needs of the patient. Using three-dimensional software, patients are able to see the end result before starting the ClearCorrect process.
Treatment for TMJ disorder addresses jaw joint pain and is often another treatment Drs. Nash may recommend during a full mouth reconstruction. TMJ disorder can cause long-term health problems, not to mention daily discomfort if not treated. Other services frequently utilized for full mouth reconstructions are Lumineers®, CEREC same-day crowns and bridges, tooth extractions, dental implant placement and bone grafting.
Patients with bleeding gums, missing teeth or multiple dental concerns in Clinton, MS, can contact Nash Family Dentistry at 601-634-1812 to schedule a full mouth reconstruction consultation at their Vicksburg location.
About the Dentists
Nash Family Dentistry is a general practice offering personalized dental care for patients in Vicksburg, MS. Dr. Kenneth Nash, Dr. Jonathan Nash and their team provide patients with the latest in dental technology in a comfortable and welcoming environment. Drs. Nash offer a variety of services including laser dentistry, dental implants, and cosmetic dentistry services, among others. To learn more about the services offered at Nash Family Dentistry please visit the website at http://www.vicksburgdentist.com or call 601-634-1812 to schedule an appointment.