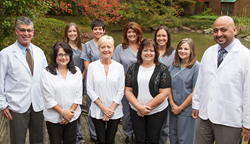 PITTSBURGH (PRWEB) November 12, 2018
Drs. Mark J. Weingarden and Sam Bakuri of Greater Pittsburgh Dental Implants and Periodontics are encouraging those with symptoms of gum recession to get checked early to reduce long-term problems associated with the condition. Many who have receding gums in Pittsburgh, PA, ignore warning signs like sensitive teeth and exposed tooth roots. These indicators can lead to a variety of long-term issues including general discomfort, increased tooth decay and tooth loss.
Gum recession occurs for a number of reasons. Common causes of gums pulling away from the teeth include gum disease, orthodontic treatments, heredity and aggressive brushing. Many times, the condition starts so subtly that it goes unnoticed or does not seem serious. However, it can lead to significant oral problems and should always be treated. Regardless of the underlying reasons for receding gums, patients should take any changes in their teeth and gums seriously.
Gum recession is a treatable issue with the help of board-certified periodontists like Drs. Weingarden and Bakuri who offer more than 30 year of expertise. To halt the progression of advancing receding gums for Pittsburgh area patients, Drs. Weingarden and Bakuri can recommend and perform interventions including gum grafts. Gum grafting takes healthy soft tissues and places them at the site of receding gums. The process effectively creates a healthier gum line and reduces the likelihood of further sensitivity, rampant decay, gum disease or tooth loss.
Ignoring sensitive teeth and receding gums in Pittsburgh, PA, is not recommended for long-term dental health and wellness. Appointments with either periodontists at their Allison Park office location can be made by calling 412-201-0633.
About the Periodontists
Drs. Mark J. Weingarden and Sam Bakuri, board-certified periodontists, offer minimally invasive and comprehensive periodontal treatments at their practice in Allison Park, PA. Dr. Weingarden has been voted "Top Dentist" in Pittsburgh each year since 2011 and has served as a President of the Pennsylvania Society of Periodontology. An active member of numerous organizations, he also founded the Pittsburgh Dental Network in pursuit of higher learning. Helping others is Dr. Bakuri's passion. He is certified in IV sedation, an Assistant Professor at the University of Pittsburgh School of Dental Medicine and founder and director of the Pittsburgh Dental Horizon Study Club. This team believes in providing preventative care whenever possible and have been nationally recognized for their effective gum disease treatment. To learn more about Drs. Weingarden and Bakuri or the services they offer, visit their website http://www.pittsburghimplantsandperio.com or call 412-201-0633 to schedule a consultation.