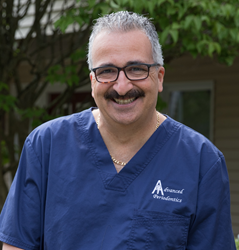 Waterbury, CT (PRWEB) December 18, 2018
Dr. Richard Amato and his associate, Dr. Michael Kang, welcome new patients in Waterbury, CT, dental implants with or without a referral. Advanced Periodontics and Dental Implant Center of Connecticut in Monroe, CT was founded by Dr. Amato to bring patients in the Monroe, Trumbull, Shelton, Danbury, Newtown and Waterbury areas personalized, comprehensive periodontal care with the help of advanced dental technology. This technology enables Drs. Amato and Kang to offer their patients high-quality care with reliable, long-lasting results. Dental implants replace one or more missing teeth are one of the most long-lasting and aesthetically appealing smile restorations available today; this team welcomes patients in need of a tooth replacement to discover if dental implants are their ideal solution.
Drs. Amato and Kang take advantage of three-dimensional imaging and specialized software to offer computer-guided surgery. This precise and accurate dental implant placement offers faster recovery times and increased long-term success. Because this team of periodontists understands that every patient is unique, they take care to work closely with each one to determine their needs and smile goals find the best solution that works for them. From single dental implants to full arch solutions including All-on-4® full arch solutions, this team of highly qualified specialists is prepared to meet a variety of smile needs with this long-lasting, minimal-maintenance tooth replacement solution.
Maintaining dental implants to ensure long-term success is as simple as caring for natural teeth, as this tooth replacement solution is designed to replicate the look, feel and function of a natural smile. They blend seamlessly within the smile and offer durability, functionality and esthetically-pleasing results that can last as long as a lifetime with proper care. Guided by the knowledgeable, experienced and compassionate team at Advanced Periodontics and Dental Implant Center of Connecticut, thousands of patients have already changed their lives with dental implants.
To ensure that every patient has access to the same high-quality dentistry, Drs. Amato and Kang are committed to incorporating the latest dental technology into their practice and look forward to offering this same level of expertise and excellence to new patients in need of dental implants in Waterbury, CT and surrounding areas. To schedule a dental implant consultation or to learn more about this tooth replacement solution, visit http://www.connecticutperiodontist.com.
About the Periodontists
Founder of Advanced Periodontics and Dental Implant Center of Connecticut LLC in Monroe, Connecticut, Dr. Richard Amato, and his associate Dr. Michael Kang, are leading periodontists and dental implant specialists who offer personalized care using advanced technology. He earned his DDS degree from Stony Brook University and his Certificate of Proficiency in Periodontics from Eastman Dental Center at the University of Rochester. Dr. Amato has placed thousands of dental implants. He is the first and most experienced provider of LANAP® laser gum disease therapy in Fairfield County, CT as well as the first periodontist in Connecticut to provide the minimally invasive gum recession treatment, the Pinhole® Surgical Technique. Dr. Kang is a board-certified Diplomate of the American Academy of Periodontology. He completed his residency in periodontology from Columbia University and has published numerous articles on implant dentistry. To learn more about Dr. Amato, Dr. Kang or the services they offer visit http://www.connecticutperiodontist.com and call 203-268-2000.