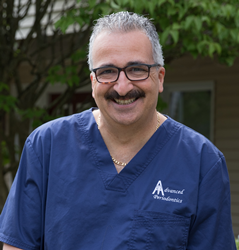 LAPIP relies on special, laser-based equipment and protocols to remove infected tissues and resolve infections at the source.
NEWTOWN, Conn. (PRWEB) January 17, 2019
The Advanced Periodontics and Dental Implant Center of Connecticut periodontal team of Drs. Richard Amato and Michael Kang, are helping some patients with dental implants complications save their implants and improve their oral health. Although the dental implant success rate is very high when implants are placed by credentialed periodontists, the implant site and surrounding gums can become infected due to several factors. This condition is known as peri-implantitis.
Peri-implantitis presents itself in a number of ways, including swollen gums, bleeding gums, discharge coming from around the implant, an unpleasant smell coming from the site of the implant and loosening of the dental implant. When Drs. Amato and Kang diagnose a patient in Newtown, CT, with peri-implantitis, they regularly recommend LAPIP™, a minimally invasive laser dentistry treatment solution. In clinical trials, the LAPIP protocol has had a one-year success rate of 95 percent, meaning 95 out of 100 failing dental implants were stabilized and saved as a result of treatment.
LAPIP relies on special laser-based equipment and protocols to remove infected tissues and resolve infections at the source. At Advanced Periodontics and Dental Implant Center of Connecticut, the periodontists utilize the trusted PerioLase®MVP-7™ laser. The ultimate goal of LAPIP is to comfortably sanitize and heal the dental implants site to prevent further damage and restore complete oral health.
Since becoming one of the most advanced treatments for peri-implantitis, LAPIP has shown significant success in helping people maintain and keep their dental implants. Dr. Amato, who has practiced full-time in the Monroe and Waterbury, CT, areas since 1989, appreciates LAPIP's inherent advantages. When discussing the protocol with patients, he regularly explains that "minimally-invasive LAPIP uses laser physics to eliminate gum infection, keeping healthy tissue unharmed."
Patients residing or working in Monroe, Trumbull, Shelton, Danbury, Newtown or Waterbury, CT, with suspected peri-implantitis are urged to call Dr. Amato's and Kang's practice at 203-268-2000 to schedule an appointment.
About the Periodontists
Founder of Advanced Periodontics and Dental Implant Center of Connecticut LLC in Monroe, Connecticut, Dr. Richard Amato, and his associate Dr. Michael Kang, are leading periodontists and dental implant specialists who offer personalized care using advanced technology. He earned his DDS degree from Stony Brook University and his Certificate of Proficiency in Periodontics from Eastman Dental Center at the University of Rochester. Dr. Amato has placed thousands of dental implants. He is the first and most experienced provider of LANAP® laser gum disease therapy in Fairfield County, CT as well as the first periodontist in Connecticut to provide the minimally invasive gum recession treatment, the Pinhole® Surgical Technique. Dr. Kang is a board-certified Diplomate of the American Academy of Periodontology. He completed his residency in periodontology from Columbia University and has published numerous articles on implant dentistry. To learn more about Dr. Amato, Dr. Kang or the services they offer visit http://www.connecticutperiodontist.com and call 203-268-2000.