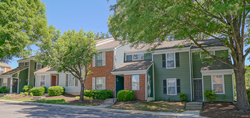 This was a great opportunity to leverage DF Multifamily's management and renovation expertise. We are very proud to have delivered extraordinary returns to our investors. - J Guy Buck, CFO of Drucker + Falk
NEWPORT NEWS, Va. (PRWEB) October 13, 2020
DF Ventures, a business unit of Drucker + Falk, has announced the sale of a 710-unit, three property portfolio to The Kushner Companies for $113.0 million. The portfolio consists of Chesapeake Bay Apartments located in Newport News, VA, Hanover Crossing in Mechanicsville, VA, and Wilde Lake Apartments located in Henrico, VA.
J Guy Buck, CFO of Drucker + Falk, said, "This was a great opportunity to leverage DF Multifamily's management and renovation expertise. We are very proud to have delivered extraordinary returns to our investors. DF Ventures, along with a partner, acquired the properties in May of 2016 for $68.5 million and implemented a $10.5 million renovation plan across the three properties which, combined with stellar property management, resulted in an average return on investment exceeding 30% annually."
"DF Ventures is very pleased with the success of our value-add business plan for this portfolio. Renovating each community's clubhouse and upgrading amenities has resulted in higher leasing traffic, and renovating unit interiors, curing deferred maintenance, and enhancing exteriors has vastly improved curb appeal," said DF Ventures' Director, Eric Skow. Exterior renovations included: replacing vinyl siding at Hanover Crossing Apartments in Richmond metro area's Hanover County with hardiplank; painting exteriors at Chesapeake Bay and Wilde Lake; asphalt renovations, replacing or repairing patios, and window replacement at Wilde Lake; and repairing balconies and stairwells, adding dog parks, swimming pool and pool deck resurfacing, and upgrading pool furniture at the properties. Apartment home renovations included kitchen and bath upgrades including cabinets, countertops, new brushed nickel hardware throughout, modern lighting package, vinyl plank flooring, replacing polybutylene piping at two of the properties and new appliances. Residents, prospects, local residents, and businesses were ecstatic with the transformation of the communities, new color choices, new 24-hour fitness centers, and clubhouses.
DF Ventures extends their appreciation to Charles Wentworth, Hank Hankins, Will Matthews, and the Colliers Multifamily Investment Sales team for their marketing of the portfolio and help concluding a very successful sales transaction.
About Drucker + Falk
Founded in 1938, Drucker + Falk is a full service real estate and investment firm managing a diverse portfolio of nearly 40,000 apartment homes and approximately 3,000,000 square feet of office, retail and industrial space in 13 states. In addition to managing a broad range of properties, including class A+ to affordable apartment communities, mixed-use and all types of commercial properties, Drucker + Falk partners with clients on developing new properties, renovating and repositioning assets, converting historic properties to unique, upscale apartment homes and offers commercial leasing and sales services. The company has completed over $1 billion of transactions and currently oversees a portfolio valued at approximately $3 billion. For further information on Drucker + Falk, please visit DruckerandFalk.com.