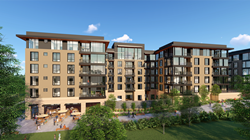 RALEIGH, N.C. (PRWEB) December 15, 2020
DF Multifamily, a division of Drucker + Falk (DF), one of the nation's most prominent multifamily management companies, recently assumed the leasing (along with Lee & Associates) of The Walker apartments. This new, vibrant mixed-use project in the trending downtown Cary, North Carolina market overlooks Cary Downtown Park with the first apartment homes scheduled to be ready in early 2022.
The Walker consists of 153 apartments and commercial space carved out for restaurants and retail stores. With so many businesses coming to Cary, The Walker will be home to future office developments. Located adjacent to the new state-of-the-art regional library on the corner of Walnut and Kildaire Farm Road, the apartment community will feature an outdoor swimming pool, high-tech fitness center, dog wash station, billiard room, private workstations, a penthouse sky lounge, open floor plans, and high end finishes. The Walker will also be adjacent to downtown Cary's soon-to-be built and iconic Downtown Park.
The Walker is owned and being developed by Academy Park Cary, LLC (APC). APC is a partnership of three multigenerational Cary families and Integrated Asset Advisors. The development companies: Monument Properties, MacKenan, and Triangle Real Estate Company are owned by the Knier, Stephenson, and Zahn families, respectively. The Walker was designed by Cline Design Associates and is being built by Clancy & Theys.
The timing for The Walker could not be better as downtown Cary is experiencing a much-awaited revitalization. "Downtown Cary has the urban history and walkability but with the safety and security of an authentic small town," says Bill Zahn, the project's lead developer. "In addition to fine dining, laid back breweries, high-ranked schools, and cultural icons like the Cary Art Center and soon to be built DTC park, residents are within walking distance of all the hotspots and in position to fully enjoy Cary, which is truly positioning itself to be a phenomenal place to live, learn, work, exercise, relax, and play."
About Drucker + Falk
Founded in 1938, Drucker + Falk is a full-service real estate and investment firm managing a diverse portfolio of nearly 40,000 apartment homes and approximately 3,000,000 square feet of office, retail and industrial space in 13 states. In addition to managing a broad range of properties, including class A+ to affordable apartment communities, mixed-use and all types of commercial properties, Drucker + Falk partners with clients on developing new properties, renovating and repositioning assets, converting historic properties to unique, upscale apartment homes and offers commercial leasing and sales services. For more information visit Drucker + Falk.