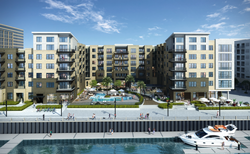 We are excited about the opportunity to lease and manage the meticulously designed, luxurious waterfront project that is Pier 33. - Kellie Falk, Managing Director for Drucker + Falk
VIRGINIA BEACH, Va. (PRWEB) November 12, 2020
DF Multifamily, a division of Drucker + Falk (DF), one of the nation's most prominent multifamily management companies, recently assumed the leasing and management of Pier 33, new waterfront apartment homes sitting on five acres along Wilmington's Cape Fear River. Pier 33 construction is well underway. Pre-leasing has already begun and the community expects its first residents in late 2020.
Pier 33 consists of 286 apartments, 20,000 square feet of commercial space, and a parking garage with 525 spaces. This is a $60 million project developed by Raleigh, North Carolina-based Dewitt Carolinas, Inc., a real estate development company with 25 years of experience in building large scale residential and commercial properties. Over the last 40 years, DeWitt Carolinas has developed more than 2,500 multifamily units throughout the Carolinas and has a longstanding history of excellence and impressive client relationships.
A six-story institutional grade steel and concrete building with extensive interior and exterior amenities and direct access to the Riverwalk, Northern Riverfront Marina, and Wilmington's future North Waterfront Park, Pier 33 boasts luxurious living in an unmatched location. Positioned right on the waterfront in downtown Wilmington and overlooking the Port City Marina, this community offers a resort lifestyle with high-end amenities including two outdoor courtyards, a saltwater pool, a gaming lawn, outdoor grilling stations, a 24-hour fitness center and yoga room, conference and networking room, clubroom, business center, dog washing station, reserved parking, gourmet coffee bar, and more.
The apartment community brings a new height of living to Wilmington. Its Class A finishes surround residents with sophisticated, distinctive style and include studio, one, two, and three-bedroom floor plans. Premium finishes, spacious balconies, chef-inspired kitchens, custom cabinetry, quartz countertops, contemporary lighting and fixtures, and more make up each apartment home and certain units boast breathtaking views and expansive floor-to-ceiling windows.
"We are excited about the opportunity to lease and manage the meticulously designed, luxurious waterfront project that is Pier 33. This project will be a wonderful opportunity for the people of Wilmington - whether they are a year-round resident or vacationers looking for the perfect waterfront home in North Carolina. Our team looks forward to continuing to work with Dewitt and advancing our partnership," said Kellie Falk, Managing Director for Drucker + Falk. Todd Saieed, Dewitt Carolinas' CEO, went on to add, "We know well the professionalism that Drucker + Falk brings to any project having partnered with them on numerous developments over the past 25 years. Their insight into Wilmington's growth and lifestyle trends is invaluable as we establish this premiere luxury community."
About Drucker + Falk
Founded in 1938, Drucker + Falk is a full-service real estate and investment firm managing a diverse portfolio of nearly 40,000 apartment homes and approximately 3,000,000 square feet of office, retail and industrial space in 13 states. In addition to managing a broad range of properties, including class A+ to affordable apartment communities, mixed-use and all types of commercial properties, Drucker + Falk partners with clients on developing new properties, renovating and repositioning assets, converting historic properties to unique, upscale apartment homes and offers commercial leasing and sales services. For more information visit DruckerandFalk.com.