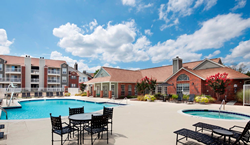 The acquisition of The Point at Hampton Hollow represents an opportunity to purchase a quality asset within a strong market and increase the income stream and value through strategic capital improvements and quality property management. - Eric Skow, Director of Acquisitions for DF Ventures
NEWPORT NEWS, Va. (PRWEB) November 24, 2020
DF Ventures, a business unit of Drucker + Falk, one of the nation's most prominent multifamily management companies, acquired The Point at Hampton Hollow Apartments in Silver Spring, MD for $49.5MM in November 2020.
A garden style apartment community, built in 1987, The Point at Hampton Hollow features a mix of apartment types with open floor plans, a fitness center, pool, resident lounge with free wi-fi, picnic area, dog park, walking paths, and a business center. The property provides convenient access to employment, schools, and entertainment centers throughout the Washington and Baltimore region due to its strategic location and access to I-95 and the Intercounty Connector (ICC).
DF Ventures has an ambitious value-add strategy for The Point at Hampton Hollow, including rebranding the community to The Crest on Hampton Hollow, updating the clubhouse, enhancing curb appeal, and completing apartment renovations in order to modernize the community. Drucker + Falk, one of the most respected property management companies in the country and designated as one of the "Best Places to Work in Multifamily" three years in a row, also plans to institute professional management practices and a more targeted approach to marketing.
"The acquisition of The Point at Hampton Hollow represents an opportunity to purchase a quality asset within a strong market and increase the income stream and value through strategic capital improvements and quality property management," said Eric Skow, Director of Acquisitions for DF Ventures.
ABOUT DRUCKER + FALK
Founded in 1938, Drucker + Falk is a full service real estate and investment firm managing a diverse portfolio of nearly 40,000 apartment homes and approximately 3,000,000 square feet of office, retail and industrial space in 13 states. In addition to managing a broad range of properties, including class A+ to affordable apartment communities, mixed-use and all types of commercial properties, Drucker + Falk partners with clients on developing new properties, renovating and repositioning assets, converting historic properties to unique, upscale apartment homes and offers commercial leasing and sales services. The company has completed over $1 billion of transactions and currently oversees a portfolio valued at approximately $3 billion. For more information visit Drucker + Falk.