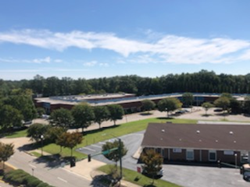 NEWPORT NEWS, Va. (PRWEB) October 15, 2020
DF Ventures, a business unit of Drucker + Falk, acquired 720 Thimble Shoals Boulevard in Newport News, Virginia for $4.95 million in September 2020. Michael Shapiro of DF Commercial represented the buyer, while Peter Abraham of Harvey Lindsay represented the seller on the purchase and sale.
Built in 1991, 720 Thimble Shoals Boulevard is a 48% leased 77,377 square foot office/warehouse property located at City Center at Oyster Point in Newport News, Virginia, one of the top locations for business within the MSA. DF was able to source the deal on an off-market basis.
DF Ventures has an ambitious value-add strategy for 720 Thimble Shoals Boulevard, including renovating and modernizing the vacant space, curing deferred maintenance, enhancing curb appeal, and leasing-up the vacancies.
About Drucker + Falk
Founded in 1938, Drucker + Falk is a full service real estate and investment firm managing a diverse portfolio of nearly 40,000 apartment homes and approximately 3,000,000 square feet of office, retail and industrial space in 13 states. In addition to managing a broad range of properties, including class A+ to affordable apartment communities, mixed-use and all types of commercial properties, Drucker + Falk partners with clients on developing new properties, renovating and repositioning assets, converting historic properties to unique, upscale apartment homes and offers commercial leasing and sales services. The company has completed over $1 billion of transactions and currently oversees a portfolio valued at approximately $3 billion. For further information on Drucker + Falk, please visit DruckerandFalk.com.