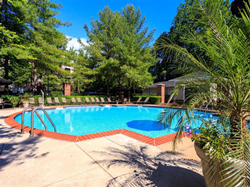 We couldn't be more excited to work with the incredible team of professionals already on site at Beacon Place...
NEWPORT NEWS, Va. (PRWEB) March 18, 2021
Building on an already strong portfolio in the Washington D.C./Maryland metro market, Drucker + Falk was selected to manage Beacon Place, a 240 unit, superbly situated apartment community in Gaithersburg, MD.
Located in the 352-acre planned development of the Kentlands, Beacon Place Apartments benefits from long held ownership who place a high priority on ensuring an exceptional resident experience.
"We chose Drucker + Falk to manage Beacon Place because of their decades long reputation for professional management and on-site leadership, local market experience, overall client responsiveness and the award-winning resident service for which they are broadly known," said Steve Lynch of Steve Lynch Consulting & Management, who represented Ownership during the management selection process.
Drucker + Falk will oversee ongoing community enhancements including interior, exterior upgrades, window and door replacements and courtyard transformations. On behalf of Drucker + Falk, Andrew Chisholm, Multifamily Director, and Sabrina Gendreau, Regional Property Manager, will oversee site staff.
"We couldn't be more excited to work with the incredible team of professionals already on site at Beacon Place and look forward to delivering on our charge of enhancing the living experience for residents, and bottom line NOI performance for Ownership" said Chisholm.
The Washington D.C./Maryland metro market is of strategic importance to Drucker + Falk whose primary footprint encompasses the mid-Atlantic and Southeast United States. Portfolio growth in the Maryland market comes on the heels of one of the strongest multifamily management growth periods in the firm's history. The addition of Beacon Place brings Drucker +Falk's multifamily management portfolio to nearly 40,000 apartment homes across 12 states.
ABOUT DRUCKER + FALK
Founded in 1938, Drucker + Falk is a real estate services and investment firm, managing a diverse portfolio of nearly 40,000 apartments and more than 2.5 million square feet of commercial retail, office and industrial space. With roots in third party fee management and operations in 12 states including Virginia, Maryland, North Carolina, South Carolina, Georgia, Florida, Tennessee, Kentucky, Ohio, Indiana, Arkansas and Texas, Drucker + Falk specializes in multifamily management of all asset types, value add renovations, asset repositioning and stabilization of challenging assets, new development consultation and lease up, urban revitalization, mixed use management and due diligence services. To obtain more information visit the website at Drucker + Falk or contact Lisa Brewer Rodriguez, Director, Business Development, lbrewer@druckerandfalk.com, 757-897-2190.