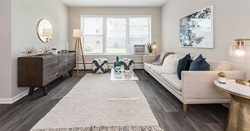 "We've been operating in the D.C./Maryland metro market for over 40 years and love nothing more than to work with owners committed to investing in sorely needed, quality housing options for an ever-growing, dynamic workforce. " - Wendy Drucker, Managing Director at Drucker + Falk
NEWPORT NEWS, Va. (PRWEB) April 23, 2020
Building on an already strong portfolio in the metro DC/Maryland market, Drucker + Falk assumed management of 675 well-located apartments in Adelphi, Maryland along a historic avenue to Washington, D.C. and just minutes from the inner loop of the Capital Beltway. The Gallery on New Hampshire, under new ownership by an established New York based equity firm, will undergo significant capital investment to interior and exterior apartments and upgraded amenities.
Andrew Chisholm, Multifamily Director at Drucker + Falk said, "We are excited to expand our Maryland portfolio where planned renovations to this value add community are not only a good business decision by owners, but one that will benefit the many current and future residents who choose to call The Gallery on New Hampshire home."
Owners chose Drucker + Falk as their management partner due to a decades long history of professional management, local market and value add renovation experience, and a firm who shares a passion for creating the ultimate living experience for residents.
Sabrina Gendreau, Drucker + Falk Regional Property Manager who will oversee the asset said, "From the minute we stepped foot on this well-located, under-valued property, it's been a labor of love to work with owners in carrying out their vision of increasing market potential through substantial community upgrades. We know resident satisfaction and bottom line NOI are inextricably linked, and we're excited for our residents and what is to come."
The Washington, D.C./Maryland metro market is of strategic importance to Drucker + Falk, whose predominant footprint encompasses the mid-Atlantic and Southeast United States. Portfolio growth in this market comes on the heels of one of the strongest multifamily management growth periods in the firm's history. The addition of The Gallery on New Hampshire brings Drucker + Falk's multifamily management portfolio to more than 38,000 apartment homes across 13 mid-Atlantic and Southeast states.
A full-service real estate services and investment firm, Drucker + Falk was founded in 1938, currently employs more than 1,000 team members, and has regional offices in Newport News, Virginia, Richmond, Virginia, Alexandria, Virginia, Raleigh, North Carolina, Charlotte, North Carolina, Atlanta, Georgia, and Columbus, Ohio.
"We've been operating in the D.C./Maryland metro market for over 40 years and love nothing more than to work with owners committed to investing in sorely needed, quality housing options for an ever-growing, dynamic workforce. We're thrilled to work with our client in bringing their vision for The Gallery on New Hampshire to fruition and to applying the same focus on People, Process, and Performance that has led us to experience one of the largest growth periods in Drucker + Falk's history," said Wendy Drucker, Managing Director at Drucker + Falk.
ABOUT DRUCKER + FALK
Founded in 1938, Drucker + Falk is a full service real estate and investment firm managing a diverse portfolio of nearly 40,000 apartment homes and approximately 3,000,000 square feet of office, retail and industrial space in 13 states. In addition to managing a broad range of properties, including class A+ to affordable apartment communities, mixed-use and all types of commercial properties, Drucker + Falk partners with clients on developing new properties, renovating and repositioning assets, converting historic properties to unique, upscale apartment homes and offers commercial leasing and sales services. For more information visit Drucker + Falk.