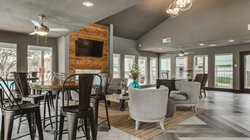 Our renovation strategy combined with the professional management and exceptional resident service for which Drucker + Falk is broadly known, positions us in these submarkets to be the property of choice for our target audience. - Jack Holuba
NEWPORT NEWS, Va. (PRWEB) April 29, 2021
Building on a national management portfolio spanning the Mid-Atlantic, Southeast and Midwest, Drucker + Falk assumed management of 2,823 apartment homes across seven (7) value-add assets in the Dallas/Ft. Worth submarkets of Arlington, Mesquite, City of Dallas, and Cedar Hill. The properties will be managed out of Drucker + Falk's newest regional office in Arlington, directed by Mark Copeland, Multifamily Director, a 30-year industry veteran in the Dallas/Ft. Worth market.
Under new ownership by an established, highly respected, and rapidly growing New York-based equity firm, Manhattan Five Partners LLC, all assets are well-located in close proximity to major commuter freeways. With a goal of providing residents with an exceptional living experience in a well-maintained, amenity rich place they call home, each community will undergo significant interior and exterior capital improvements and upgraded amenities to elevate the properties and enhance the resident experience.
In Arlington, The Residence on Lamar, Amp at the Grid, and Current at the Grid provide exceptional workforce housing just blocks from mega retail centers and AT&T stadium. Properties in Dallas and Mesquite including Sierra Park, The Annex and Forty200, are in close proximity to the rapidly expanding industrial parks that are home to some of the largest employers in the Dallas/Ft. Worth market. The Hangar, located in the Cedar Hill suburb, is just 20 minutes from downtown Dallas.
Jeffrey Srulowitz, Managing Principal at Manhattan Five Partners LLC said, "We are excited to expand our multifamily portfolio to Dallas, where planned renovations to these value-add communities represent not only a prudent business decision for investors, but one that will benefit the many current and future residents who choose to call our communities home. We are committed to investing in sorely needed, quality housing options for an ever-growing, dynamic workforce."
Jack Holuba, Vice President of Acquisitions at Manhattan Five Partners LLC added, "Our renovation strategy combined with the professional management and exceptional resident service for which Drucker + Falk is broadly known, positions us in these submarkets to be the property of choice for our target audience. We know resident satisfaction and bottom line NOI are inextricably linked, and we're excited for our investors and our residents, about what is to come."
Owners chose Drucker + Falk as their management partner as a result of their long history in professional management, value-add renovation experience, and for their shared passion in creating the ultimate living experience for residents.
Mark Copeland, Multifamily Director, and a team of two Regional Property Managers will oversee the assets. "On the heels of a year in which the world around us limited social interactions and public gatherings, we are beyond excited at the prospect of working with committed owners and our site teams to renovate the properties, re-imagine and re-open amenities, engage with our residents and build strong communities" said Copeland.
The Dallas/Ft. Worth metro market is of strategic importance to Drucker + Falk, boasting the strongest demand of any multifamily market in the country. The entry into Dallas follows expanded operations by the firm in Ohio and Indiana amid one of the most compelling growth periods in Drucker + Falk's history. The addition of the Dallas properties brings Drucker +Falk's multifamily management portfolio to nearly 40,000 apartments across 12 states.
ABOUT DRUCKER + FALK
Founded in 1938, Drucker + Falk is a full service real estate and investment firm, managing a diverse portfolio of nearly 40,000 apartments and more than 2.5 million square feet of commercial retail, office and industrial space. With roots in third party fee management and operations in 12 states including Virginia, Maryland, North Carolina, South Carolina, Georgia, Florida, Tennessee, Kentucky, Ohio, Indiana, Arkansas and Texas, Drucker + Falk specializes in multifamily management of all asset types, value add renovations, asset repositioning and stabilization of challenging assets, new development consultation and lease up, urban revitalization, mixed use management and due diligence services. To obtain more information visit DruckerandFalk.com or contact Lisa Brewer Rodriguez, Director, Business Development at lbrewer@druckerandfalk.com or 757-897-2190.