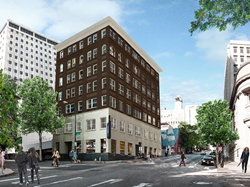 Stumpf Flats on Main is a one of a kind apartment community in a thriving part of the city, which we are thrilled to add to our expanding portfolio in the greater Richmond area.
RICHMOND, Va. (PRWEB) August 20, 2020
DF Multifamily, a division of Drucker + Falk, a performance driven real estate service and investment firm among the most respected property management and commercial real estate companies in the country, has partnered once again with Douglas Development Corporation on the leasing and management of their up and coming boutique community, Stumpf Flats on Main. The Washington, D.C.-based developer, is one of the most dominant and successful real estate developers in the Mid-Atlantic, controlling over 9 million square feet in the Washington Metro market with an additional downtown Richmond office and presence. Douglas Development Corporation and its principals have earned a national reputation as a leader in the redevelopment of historic properties and in 2013, awarded Drucker + Falk the lease up and management of Deco at CNB, an award winning apartment community and sister property to the future Stumpf Flats.
Prominently located at 728 E. Main St. in Richmond, Virginia's Central Business District, the Stumpf Flats on Main is currently undergoing a $5 million redevelopment, having previously served as the century old Stumpf Hotel. Renovation plans call for the seven-story structure to be converted into 24 one-bedroom apartments above 2,300 square feet of ground-level commercial space with an attached parking garage. Individual apartment homes will range in size from approximately 545 - 795 square feet, with rent between $1,200 - $1,500 a month.
Stumpf Flats on Main offers future residents a unique opportunity to live in a fully restored boutique historic landmark with luxurious, modern features; open concept floor plans with stylish characteristics individual to each home; and so many of the original ornate, distinctive characteristics the historic Stumpf Hotel was known for. Hard hat personal tours have already begun with several units being pre-leased and move-in dates expected in August 2020.
Andrew Chisholm, Director of Multifamily Management at Drucker + Falk, says, "Having worked together since the successful lease up, and continued management, of Deco at CNB back in 2013, we are truly pleased to continue growing our relationship with Douglas Development Corporation. Stumpf Flats on Main is a one of a kind apartment community in a thriving part of the city, which we are thrilled to add to our expanding portfolio in the greater Richmond area."
"We are very excited to transform this historic gem into a new residential community and to continue our efforts in the revitalization of the city of Richmond. Stumpf Flats on Main promises to blend the best characteristics of the former hotel with all the modern conveniences residents have come to expect and we are eager to see our vision come to life," added Norman Jemal, Managing Principal at Douglas Development Corporation.
For more information about leasing or to request a tour, please visit StumpfFlats.com.
ABOUT DRUCKER + FALK
Founded in 1938, Drucker + Falk is a full service real estate and investment firm managing a diverse portfolio of nearly 40,000 apartment homes and approximately 3,000,000 square feet of office, retail and industrial space in 13 states. In addition to managing a broad range of properties, including class A+ to affordable apartment communities, mixed-use and all types of commercial properties, Drucker + Falk partners with clients on developing new properties, renovating and repositioning assets, converting historic properties to unique, upscale apartment homes and offers commercial leasing and sales services. For more information visit DruckerandFalk.com.