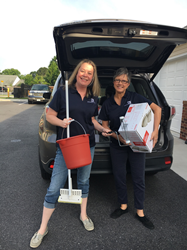 "Drucker + Falk continues to make such a significant impact on our families, and we are blown away by the support and generosity of their volunteers" said Eva Fuze of Samaritan House.
NEWPORT NEWS, Va. (PRWEB) June 12, 2019
DF Multifamily, a division of Drucker + Falk, one of the nation's most prominent multifamily management companies, kicked off the summer with several of their Hampton Roads team members participating in the Hampton Roads Apartment Council's (HRAC) "Day of Giving" philanthropic initiative. By teaming up with HRAC, Samaritan House was provided with much-needed support and volunteering from Drucker + Falk. Samaritan House, a non-profit organization which originated in Virginia Beach in 1984, is committed to fostering personal safety, growth and self-sufficiency in adults and their children through the freedom from sexual assault, domestic violence, human trafficking, and homelessness. They provide emergency and permanent housing, support services, and community outreach to victims of domestic violence and homeless families.
On HRAC's designated Day of Giving, DF Multifamily extended financial support and employees used their annual volunteer day to commit time and service to seven Samaritan House emergency shelters throughout Hampton Roads. This is an increase from last year's Day of Giving when four shelters saw volunteer work. The participation of DF team members with Samaritan House is a testament to the compassion that the company holds for their local community and the hard work of Tarra Secrest, DF Mid-Atlantic Director of Marketing and Property Development, who sits on the Events and Education Committee for the HRAC. Secrest and her fellow committee members were largely responsible for organizing this event, and Drucker + Falk also solicited their vendors to donate necessary items and materials for the project.
To kick off this year's Day of Giving, DF Multifamily employees worked alongside HRAC to repair several safe houses in the Hampton Roads area. Projects included: replacing counters, cabinets, and appliances (some of which were donated by Drucker + Falk), deep cleaning living spaces, power washing exteriors, painting common spaces and bedrooms, replacing light fixtures, and various other repairs and renovations. "The projects the Drucker + Falk team and other volunteers completed saved us thousands of dollars in repair costs and make a huge difference to help our client families feel at home as they escape domestic violence, sexual assault, human trafficking, and homelessness," said Eve Fuze, Marketing and Events Coordinator at Samaritan House.
"We are so proud of the work our teams do not only in the apartment community but in the local community as a whole. Together with Jenkins Restoration, First Atlantic Restoration, Jones Printing Service, HD Supply, Home Depot, and other partners, we were able to, in just one day, directly touch the lives of many families and children in the Hampton Roads area that truly need our help, and that is a genuinely heartwarming feeling for all of us," said Deidre Brown, Director of Multifamily with Drucker + Falk.
The opportunity to work so closely with Samaritan House this year is just one example of the additional paid time off Drucker + Falk employees receive as an encouragement to make a difference in their communities. Additionally, DF Multifamily and its team members have provided time, monetary and physical donations, and services to countless other charitable organizations throughout the Southeast and Mid-Atlantic regions.
In conclusion, Eve Fuze of Samaritan House said, "Drucker + Falk continues to make such a significant impact on our families, and we are blown away by the support and generosity of their volunteers. The selfless employees at Drucker + Falk have helped to take away so much stress from our team and the families who call these properties home. It is no small feat to put this event together and Drucker + Falk did an incredible job."
ABOUT DRUCKER + FALK
Founded in 1938, Drucker + Falk is a full service real estate and investment firm managing a diverse portfolio of more than 30,000 apartment homes and approximately 3,000,000 square feet of office, retail and industrial space in nine states. In addition to managing a broad range of properties, including class A+ to affordable apartment communities, mixed-use and all types of commercial properties, Drucker + Falk partners with clients on developing new properties, renovating and repositioning assets, converting historic properties to unique, upscale apartment homes and offers commercial leasing and sales services. For more information see druckerandfalk.com.