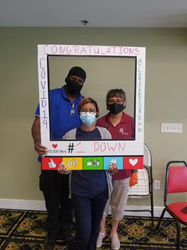 It's really rewarding to see so many people come together to help others during this unusual time of need. - Guy Blundon, General Partner at CMB Development
RICHMOND, Va. (PRWEB) April 15, 2021
The Atlantic at Brook Run in Henrico, VA and Chesterfield Square in Midlothian, VA, both 55+ affordable senior living communities managed by DF Multifamily, a department of Drucker + Falk (DF), are offering scheduled COVID-19 vaccine clinics starting in March until late April for residents, on-site team members, and nurse aids.
On Tuesday, March 23rd, The Atlantic at Brook Run, located at 6000 Brook Road in Richmond, VA, hosted volunteer medical professionals who administered 64 Moderna COVID-19 shots primarily to residents, with community employees receiving the shots as well. The clinic date for the second shot in the Moderna series will be held on Thursday, April 15th in the same location. Chesterfield Square, located at 1017 Hioaks Road in Richmond, hosted its first vaccine clinic on Tuesday, April 6th giving out 68 Moderna COVID-19 shots and scheduled the follow-up event for the second shot in the series for Thursday, April 22nd. Registration for the events at both communities began weeks before the first available shot date and is open to residents, employees, and nurse aids, with walk-ins being accepted.
The idea to host a vaccination event in support of the ongoing fight against the COVID-19 virus was born from a conversation between Chesterfield Square property manager, Sonia Collins and a pastor in the local area. A vaccination event on-site at both properties was very important to Drucker + Falk and their on-site team members, as many of the residents in the 55+ communities do not have the option to drive off-site for a vaccine or register for one online as a result of limited technology and email access. Spearheading the initiative, Collins connected with Ellen Ficker at the Health Department, and the planning began.
DF Managing Director, Wendy Drucker, says, "We are so proud to be working with the communities that are opening up their properties for the greater distribution of the COVID-19 vaccine. This is a testament to the supportive, compassionate teams at The Atlantic at Brook Run and Chesterfield Square. The residents and staff have been so helpful and eager to be involved in this initiative, and it's been an honor to see their communities come together for the greater good."
In planning the events the on-site organizers prioritized comfort and convenience for their senior residents in addition to the health and safety guidelines previously set out by the Center for Disease Control and Virginia Department of Health. Comforts included plenty of seating, which is not the standard at most vaccine clinics, and spacious waiting areas.
DF has always placed an importance on giving back to the community, whether it be through the company's annual Day of Giving, donating to local charities, or teaming up with other organizations around the community. The participation, volunteerism, and willingness of DF team members to help is a testament to the compassion that employees feel when giving back to their great community.
Guy Blundon, General Partner at CMB Development, says, "It's really rewarding to see so many people come together to help others during this unusual time of need. We are proud to be able to offer a venue for vaccination. None of this would have been possible without the folks at Drucker + Falk and the medical professionals who were eager to help and participate. We hope to be able to all come together to serve as many people as possible."
Founded in 1938, Drucker + Falk is a full-service real estate and investment firm managing a diverse portfolio of nearly 40,000 apartment homes and approximately 3,000,000 square feet of office, retail and industrial space in 13 states. In addition to managing a broad range of properties, including class A+ to affordable apartment communities, mixed-use and all types of commercial properties, Drucker + Falk partners with clients on developing new properties, renovating and repositioning assets, converting historic properties to unique, upscale apartment homes and offers commercial leasing and sales services. For more information, visit Drucker + Falk.