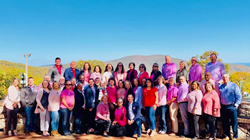 "While our goal has never been to be the biggest, it has always been to be the best. Every day, exceeding the expectations of our employees, residents and clients isn't just a hopeful goal, it's a business strategy." - Jim Ledbetter, President and COO at Drucker + Falk
VIRGINIA BEACH, Va. (PRWEB) April 30, 2020
The National Multifamily Housing Council (NMHC) has released its coveted NMHC Top 50 List for 2020, naming Drucker + Falk among the Top 50 multifamily property management firms in the country. For three decades the NMHC Top 50 rankings have remained a key industry benchmark and resource.
"We are honored to be recognized as one of the Top 50 property management firms in the country. While our goal has never been to be the biggest, it has always been to be the best. Every day, exceeding the expectations of our employees, residents and clients isn't just a hopeful goal, it's a business strategy. Our business model, built around a focus on "People, Process and Performance," allows us to deliver on that charge," said Jim Ledbetter, Drucker + Falk President and COO.
Third generation owners Wendy Drucker, Kellie Falk and David Falk added "It is because of the dedication of our 1,100 associates that we have been able to grow the Drucker + Falk portfolio, increasing market share in our existing markets and expanding geographically. It is the team of Drucker + Falk working together that makes all the difference for our residents and clients."
About Drucker + Falk
Founded in 1938, Drucker + Falk is a full service real estate and investment firm managing a diverse portfolio of nearly 40,000 apartment homes and approximately 3,000,000 square feet of office, retail and industrial space in 13 states. In addition to managing a broad range of properties, including class A+ to affordable apartment communities, mixed-use and all types of commercial properties, Drucker + Falk partners with clients on developing new properties, renovating and repositioning assets, converting historic properties to unique, upscale apartment homes and offers commercial leasing and sales services. For more information visit Drucker + Falk.