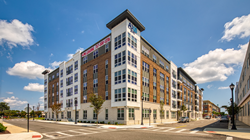 We are thrilled about the success Axis at PTC has seen in such a short amount of time.
NEWPORT NEWS, Va. (PRWEB) September 15, 2020
The DF Multifamily division of Drucker + Falk, a performance driven real estate service and investment firm among the most respected property management and commercial real estate companies in the country, recently opened AXIS at PTC apartments in Hampton, Virginia. The newest urban lifestyle community in Peninsula Town Center, AXIS at PTC, is an open air mixed-use development in Peninsula Town Center, where you can shop, dine, live, work, and play, featuring a mix of department and specialty retailers and restaurants, as well as commercial office and residential space. The town center area also has several landscaped parks, plazas and squares and 4,402 parking spaces in surface and structured lots as well as on-street. Axis at PTC is within walking distance to favorites like Target and the Hampton Coliseum, and is a modern, conveniently located community focused on providing residents with a one-of-a-kind lifestyle and has already seen outstanding occupancy numbers. Leading the Peninsula multifamily market in rent per square footage, AXIS at PTC is more than 50% leased in just three months and has already begun receiving rave 5-star reviews from its residents.
With a sleek, stylish aesthetic and luxurious interior finishes, Axis at PTC provides the ultimate in modern amenities: walk-in showers; stainless steel appliances; a covered parking garage; storage units; granite countertops; custom cabinetry; sophisticated tile backsplashes; vinyl plank flooring; reset lighting; floor to ceiling windows; and a 24/7 fitness and wellness center with state-of-the-art Matrix cardio and weight training equipment and more than 200 virtual on-demand classes. With a rooftop party deck that provides stunning views of the city, contemporary pocket courtyards, a club room with a catering kitchen, and resident social events, Axis at PTC, in just a few short months, has proven itself to be the perfect space for entertaining friends and loved ones. With the goal of making the work-life balance a little more seamless for residents, especially in the era of working remotely, there is speedy Wi-fi; a trusted package receiving system; professional on-site management by Drucker + Falk; convenient online resident payment system and online service request forms; and more.
The apartment homes at Axis at PTC are chic, modern, and surrounded by the upbeat energy of Peninsula Town Center, providing residents with a big city vibe at an affordable price. The luxurious apartments are within walking distance to restaurants and bars (Avenue Blue Piano and Wine Bar, Chipotle, FirstWatch Daytime Cafe, The Greene Turtle, Park Lane Tavern, Smashburger, etc); nails salons, book stores, shopping, beauty stores, and much more.
Deidre Brown, DF Director of Multifamily Management, says, "We are thrilled about the success Axis at PTC has seen in such a short amount of time. With studio, one, two, and three-bedroom apartments, the 162-unit Axis at PTC has some of the most modern and elegant interior features and provides that "city feel" that only being in a bustling spot like Peninsula Town Center can achieve. All of us at Drucker + Falk are dedicated to the management of this community and the growth of such a top-notch area."
Zaf Tabani of the Dallas-based Tabani Group says, "Our plan to bring renewed energy to Peninsula Town Center is well under way and the sky is truly the limit when it comes to apartment communities and other places of interest. The relationship we have developed with Drucker + Falk is a strong one and we are grateful to have their talent and expertise when it comes to the area's multifamily management."
For more information on scheduling a virtual tour, visit the Axis website here or call/ text (757) 267-4935.
About Drucker + Falk
Founded in 1938, Drucker + Falk is a full service real estate and investment firm managing a diverse portfolio of nearly 40,000 apartment homes and approximately 3,000,000 square feet of office, retail and industrial space in 13 states. In addition to managing a broad range of properties, including class A+ to affordable apartment communities, mixed-use and all types of commercial properties, Drucker + Falk partners with clients on developing new properties, renovating and repositioning assets, converting historic properties to unique, upscale apartment homes and offers commercial leasing and sales services. For more information visit DruckerandFalk.com.