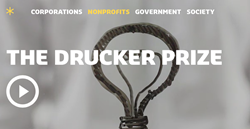 These organizations demonstrate that a healthy society depends on innovation from nonprofits of every shape, size and mission.
CLAREMONT, Calif. (PRWEB) August 31, 2018
The Drucker Institute at Claremont Graduate University has named the 10 finalists for the 2018 Drucker Prize. The winning nonprofit organization, to be announced on October 1, will receive $100,000.
The Drucker Institute has also released to the entire social sector all of the content from The Drucker Prize learning platform, including readings featuring the timeless wisdom of Peter Drucker and video insights from some of today's top minds in nonprofit management and leadership. All of this material is now available for free to any interested organization.
The finalists for the 2018 Drucker Prize are:

DataKind, for the Six Components of Successful AI for Good Projects framework that helps nonprofit organizations harness the power of data science.
Interise, for the Streetwise MBA that creates professional development opportunities for underserved entrepreneurs.
LA Family Housing, for the Rental Assistance Calculation Tool that more effectively matches aid with demonstrated need.
Massachusetts Housing and Shelter Alliance, for its pay-for-success model that reduces homelessness.
mothers2mothers, for the Mentor Mother Model that reduces mother-to-child HIV transmission.
myAgro, for the Mobile Layaway for Smallholder Famers financial planning and education model.
National Capital Poison Center, for creating online access to safe, reliable and trustworthy toxin advice through webPOISONCONTROL.
Operation ASHA, for its community-based and e-compliance-enabled approach to eradicating tuberculosis.
Virginia Mason Health System, for equipping nurses to detect and treat sepsis cases earlier through Team Sepsis.
YMCA of the USA, for its community-based preventive approach to reducing the prevalence of diabetes.
These ten finalists were selected from a group of 50 semifinalists, who had themselves been chosen from among 509 first-round applicants. Leaders from the 50 semifinalists were invited to complete a series of mini-courses on The Drucker Prize learning platform, exploring different aspects of innovation and organizational effectiveness. Each semifinalist then shared, in a second round of their application, how they might pilot or put to use any new ideas they learned.
"The 2018 finalists for The Drucker Prize range from tiny startups to mature, large enterprises," said Zach First, the Drucker Institute's executive director. "Collectively, they demonstrate that a healthy society depends on innovation from nonprofits of every shape, size and mission."
In addition to First, the final judges for the 2018 Drucker Prize are: Ayo Atterberry, senior associate at The Annie E. Casey Foundation; Cecily Drucker, member of the Drucker Institute's Board of Advisors; Sumita Dutta, managing director at Golden Seeds; Patricia Easton, executive vice president and provost of Claremont Graduate University; Flip Flippen, founder of Flippen Group and member of the Drucker Institute Board of Advisors; Jane Nelson, board member of Leadership Network; C. William Pollard, chairman emeritus of ServiceMaster Co. and an emeritus member of the Drucker Institute's Board of Advisors; Charles Somerville, Ph.D. candidate in Applied Social Psychology at Claremont Graduate University; and Jocelyn Wyatt, co-founder and executive director of IDEO.org.
About the Drucker Institute
The Drucker Institute is a social enterprise based at Claremont Graduate University. Our mission is strengthening organizations to strengthen society. Our programming—for the corporate, nonprofit and public sectors—is built on a foundation of YESTERDAY/TODAY/MONDAY* "Yesterday" refers to the fact that our work is grounded in Peter Drucker's timeless wisdom. "Today" speaks to the urgency that we know organizational leaders feel to successfully meet their greatest challenges and opportunities. And "Monday" points to our proven ability to help executives move quickly from ideas to action to results, just as Drucker urged his own consulting clients: "Don't tell me you had a wonderful meeting with me. Tell me what you're going to do on Monday that's different." For more, visit http://www.drucker.institute.
About Claremont Graduate University
Founded in 1925, CGU is one of a select few American universities devoted solely to graduate-level education. The university is a founding member of The Claremont Colleges, which include Pomona College, Pitzer College, Claremont McKenna College, Scripps College, Harvey Mudd College, and Keck Graduate Institute. Students are encouraged to look beyond the traditional disciplinary divisions and define their own unique program of study—CGU's transdisciplinary trademark.  CGU's other distinctions include serving as the home of the Peter F. Drucker & Masatoshi Ito Graduate School of Management and the annual Kingsley and Kate Tufts Poetry Awards.