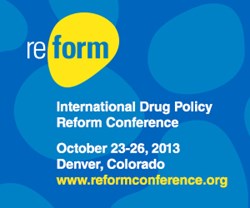 ...be a part of this revolutionary conference focused on finding solutions to the ongoing war on drugs
San Francisco, CA (PRWEB) October 17, 2013
Medical marijuana resource United Patients Group is a proud sponsor of the 2013 International Drug Policy Reform Conference, which is expected to bring together over 1,000 experts and advocates to strategize alternatives to the failed war on drugs next week in Denver.
"We are excited to join the drug policy reform community in Denver and be a part of this revolutionary conference focused on finding solutions to the ongoing war on drugs," said John Malanca, founder and owner of medical marijuana patient resource UnitedPatientsGroup.com. "United Patients Group will have a special exhibit set up throughout the conference, so be sure to stop by and join the conversation."
The Reform Conference, hosted by the Drug Policy Alliance and other partners, will be held from Wednesday, October 23 to Saturday, October 26 at the Sheraton Downtown Denver. Registration information for this event can be found at http://www.reformconference.org/registration.
This is the only conference of its kind that merges the entire range of drug policy reformers from across the country and around the world to listen, learn, network and strategize. Noteworthy speakers will host over 50 panels covering topics such as marijuana legalization, criminal justice reform, international innovations, public health and post-prohibition models for drug control.
Conference attendees include a host of national and international drug policy reformers from all walks of life, including federal, state and local elected officials, health care professionals, public health administrators, drug counselors, criminal justice advocates, students, educators and grassroots activists.
The drug policy reform movement has seen significant momentum after several marijuana legalization, harm reduction and sentencing reform victories, especially those in Colorado, Washington and Uruguay. Attendees are invited to celebrate these recent successes with a "victory walk" and block party on Thursday, October 24 at 1 pm, starting at the 16th Street Mall from the Downtown Sheraton to Skyline Park.
For more information about the 2013 Reform Conference, visit http://www.reformconference.org/. For more information about United Patients Group, visit http://www.UnitedPatientsGroup.com or call (415) 524-8099.
The best way to stay informed about developments is to "like" United Patients Group on Facebook and "follow" Untied Patients Group on Twitter.
About UnitedPatientsGroup.com
UnitedPatientsGroup.com is a discreet, safe, and professional online medical cannabis information resource for prospective and current patients, caregivers, and medicinal cannabis industry professionals.
While most online medical marijuana sites cater to patients already familiar with medical marijuana, the UnitedPatientsGroup.com website is a comprehensive and easy-to-use information source for people of all ages and experience levels, from novice medical cannabis users to experienced industry professionals. The site's News, Resource, and Blog pages introduce new patients to the ins and outs of medical marijuana healthcare, while helping experienced providers stay abreast of the latest developments in THC and CBD therapies.
A complimentary Five Star-rated United Patients Group medical marijuana app is available on the iTunes app store for iPhone 3GS, iPhone 4, iPhone 4S, iPhone 5, iPod touch (3rd generation), iPod touch (4th generation) and any iPad.