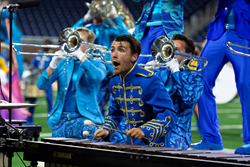 The EXTREME Marching Arts. It's like watching Broadway on a football field.
CANTON, Ohio (PRWEB) August 01, 2019
At the Pro Football Hall of Fame Game Thursday night, the football players won't be the only world-class athletes on the field. Halftime will feature elite marching arts competitors and entertainers who are athletes in their own right – performing at the very highest levels of achievement in the world.
These 14-21 year-olds are one of Drum Corps International's top ensembles, and they will show why they are the best of the best in a 50-year old activity that has evolved into an athletic performing arts phenomenon. The Bluecoats, a World Class corps, will transform 100 yards into an all-out rock concert arena.
It's like watching Broadway on a football field -- with a kick. This is NOT the time to go grab a hot dog and ice-cold drink.
The ensemble – 154 members strong – will stage an excerpt of their spectacular 2019 Drum Corps International (DCI) competitive show based on the 50th anniversary of the Beatles White Album -- with elements of the "Fab Four" culture woven all throughout the show. The action-packed production has been thrilling audiences all over the country since its debut in Detroit on June 20 at the 2019 DCI Summer Tour Premiere.
Performers move at high speed, sometimes covering 20-30 yards in a matter of seconds. It's like doing speed and agility drills while playing a wind instrument or carrying a 40-pound drum. Intricate drill, soaring sound, designer costumes, colorful auxiliaries, professional-caliber choreography. That's the new marching arts.
It's Drum Corps International, and it's more athletic than ever.
Drum Corps International CEO Dan Acheson said, "Having Bluecoats represent Drum Corps International at the NFL Hall of Fame Game is an incredible honor for our entire organization. We hope that football fans everywhere enjoy some of the most elite performers in Marching Music's Major League."
After the Hall of Fame Game halftime show, the Bluecoats will return to the DCI tour with barely a week until DCI World Championships in Indianapolis at Lucas Oil Stadium. They will enter the finals competition as winners of the two major regionals so far this season -- one at San Antonio's Alamodome and the other at Atlanta's Mercedes-Benz Stadium. For three days, they will go against 44 other corps from all over the country to vie for their second DCI World Championship title.
It's Marching Arts in the EXTREME.