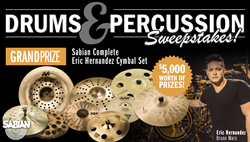 The Grand Prize in this sweepstakes is a complete Sabian Eric Hernandez Cymbal Set, which matches the actual setup that he uses.
(PRWEB) November 30, 2016
Cascio Interstate Music's newest Drum Sweepstakes is now underway, in conjunction with the release of Cascio's 116 page Winter 2016 Drums & Percussion Catalog, featuring Sabian Cymbals artist Eric "E-Panda" Hernandez on the cover. Eric is the touring drummer and brother of recording artist Bruno Mars. Cascio's first catalog specifically for drummers nationwide came out in 1993.
"We are honored to have Mr. Eric Hernandez on the cover of our annual Cascio Interstate Music publication. His drumming style is multi-dimensional, crossing into all musical genres," said Michael Houser, Cascio Interstate Music CEO. "While his primary gig is with Bruno Mars, he has shared the stage and studio with artists like Sting, Lenny Kravitz, Rihanna, Ed Sheeran, Ziggy and Damian Marley and Mayer Hawthorne, plus many more. We thank Sabian for their significant participation with this major drum artist."
The Grand Prize in this sweepstakes is a complete Sabian Eric Hernandez Cymbal Set, which matches the actual setup that he uses. Sabian is one of the world's most popular cymbal brands. The Grand Prize set includes cymbals from Sabian's HHX "Modern Dark" line which feature "Tone Projection," as well as AAX "Modern Bright" which feature "Dynamic Focus" to increase clarity.
The full Grand Prize Package is valued at $5000 and consists of one each of the following cymbals:

14" HHX Legacy Hats
17" HHX Legacy Crash
17" HHX X-Treme Crash Brilliant
18" HHX Evolution O-Zone Crash
22" HHX Legacy Heavy Ride
12" AAX O-Zone Splash
8" AAX Splash
16" AAX Aero Crash
17" AA Holy China Brilliant
18" AA Sick Hats
In addition to the Grand Prize, Cascio offers three additional prizes. First prize is a $100 Cascio Gift Card, second prize is a $50 Cascio Gift Card, and third prize is a $25 Cascio Gift Card. Enter the sweepstakes before 11:59pm on Sunday October 15th, 2017 at http://www.interstatemusic.com/Contest/235-Enter-to-Win-the-Drum-and-Percussion-Sweepstakes-Sabian-Complete-Eric-Hernandez-Cymbal-Set.aspx, or with the entry form in the front of the catalog.
Cascio Interstate's Winter 2016 Drums & Percussion Catalog includes the very latest products for drummers from major manufacturers, as well as best sellers in all categories. The catalog features cymbals, drumheads, drumsticks and mallets, accessories from practice pads to muffling devices, percussion from hand-held to ethnic drums, drum sets and hardware including parts, cases and bags, electronic drums and triggers, microphones and headphones.
The catalog also includes instructional DVDs and books, making great gifts for any drummer. Request a copy of the free 116 page catalog at http://www.interstatemusic.com/drumcatalog, by phone at (800) 462-2263, or view the entire catalog online at http://www.interstatemusic.com/zmags/Drum-Catalog.html.
As the Company moves into its 70th year in the Music Industry, Cascio continues to evolve as an omni-channel musical retailer, in an effort to satisfy all its customers expanding and changing needs both now and in the future. Cascio Interstate Music ranks in the top 15 nationally among musical instrument retailers, and is also one of the nation's top drum retailers.
The Company markets over 75,000 musical instruments and accessories to musicians of all ages in a number of ways including via their website, http://www.interstatemusic.com, and through their SuperStore, located in the Milwaukee suburb of New Berlin, Wisconsin, as well as their musician-staffed information center at (800) 462-2263. Cascio also provides products to music educators at over 100,000 schools and universities worldwide. The Company started in 1946 in Milwaukee, Wisconsin and proudly remains independently owned, operated and run by musicians.