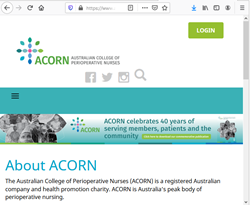 "We have been very happy with the web-based solution from Drumlin and the customer service has been second to none." Wendy Rowland, Australian College of Perioperative Nurses (ACORN)
EDINBURGH, United Kingdom (PRWEB) January 29, 2020
Valuable documents need effective protection when made available electronically. In this press release we look at two recent case studies to see how these have used innovative and cost-effective copyright protection solutions whilst ensuring ease of access for the end users. The solutions in both cases meet the additional requirements of scalability and ease of implementation for the content owners.
The first case study is in the medical field - specifically Medical Standards (Standards for Perioperative Nursing). The requirements from the client (a registered Charity) included: facilitating their annual subscription service; providing easy access via standard web-browser technology to a large, complex structured PDF document; delivering protection against content copying and printing; and enabling access to large numbers of staff in Hospitals, Educational Institutes, Libraries, together with Individual Users working from home or elsewhere. In addition they wanted their own team to manage user registration including username/password access control and IPadddress access control for group access, with optional controls on concurrency and tracking of usage patterns. To deliver the solution the source PDF file was converted by Drumlin Security to their special encrypted HTML5 format whilst retaining its look and feel using Drumlin's web-based document viewer. This was coupled with a range of access control and security facilities to meet the client specifications. The service was then made available via Drumlin's webdoxx service ([https://www.webdoxx.com) for direct access by end users and for access embedded in the client's own website.
Client Website: https://www.acorn.org.au/
The second case study is in the field of Aircraft Engineering training. The publisher in this case study is an independent Aircraft Maintenance Training company with a global presence. They needed to provide secure access to a large number of training module materials on Android tablets and PCs - more specifically detailed aircraft maintenance documents and procedures distributed in PDF format. In some instances the content is pre-loaded onto tablets and provided to course participants, in others the content is downloaded by the end users to PC laptops or other devices. In both cases multiple large, complex documents, with many images, needed to be made available for portable offline access (e.g. whilst in a training center or working on an aircraft engine). No content copying, forwarding or printing of the files was to be permitted. The solution provided was based on bespoke versions of Drumlin's Javelin3 secure offline PDF readers, with pre-installed links to the client's files using a dynamically configurable "catalog" of courses and modules within courses. Source PDF courseware files are converted to a strongly encrypted cross-platform format by the client using the DrumlinPublisher software, specifying the security controls to be applied (no copying, no printing, expires on a specified date etc.). The encrypted PDF files are then stored on their own servers with the digital rights management (DRM) controls being handled by the Drumlin in-network service. The solution has proved to be extremely effective and simple to manage for large numbers of complex PDF documents.
Client Website: https://www.academy147.com/
Both these case studies are based on services provided by UK-based PDF Security specialists, Drumlin Security Ltd (https://www.drumlinsecurity.com/).
About the author: Dr Mike de Smith (https://www.desmith.com/MJdS/) is a company director and academic, with a number of internationally acclaimed publications to his name. His major publications are available without charge in web-based format for students, academics and professionals around the world, and in electronic formats and print (see further https://www.spatialanalysisonline.com/ and https://www.statsref.com/).