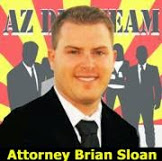 "Being recognized as a lawyer within the top 1.5% should help potential clients understand that The DUI Team is different. We provide an intelligent defense
Tempe, AZ (PRWEB) June 16, 2015
Tempe drunk driving defense attorney, Brian Sloan of The DUI Team based near Phoenix AZ has been awarded a 40 Under 40 spot from the American Society of Legal Advocates' (ASLA) search for Arizona's most skilled DUI defense lawyers. Mr. Sloan practices DUI defense in the Phoenix area. His by-invitation-only selection recognizes his "stellar legal credentials, with proven commitment to community engagement, leadership, and the highest professional standards," in the DUI defense practice area. "I am very proud of this achievement and it makes me feel good to know that I am respected within the legal community," says Attorney Brian Sloan.
The selection process engages independent research conducted by ASLA lawyers in a multi-stage process who ultimately select the Top 40 (under age 40) category. ASLA reports that less than 1.5% of lawyers nationally are selected for this honor. "Being recognized as a lawyer within the top 1.5% should help potential clients understand that The DUI Team is different. We provide an intelligent defense and we establish reasonable expectations with our clients," says Attorney Brian Sloan.
As an attorney under the age of 40, Mr. Brian Sloan exemplifies the superior qualifications required for this distinction, including his track record of positive results. The DUI Team has handled thousands of DUI cases and Mr. Sloan has personally handled around 3000. "Since we specialize in DUI only it allows us to be laser focused on how to best defend the freedom of our clients. In Arizona a DUI conviction can lead to jail time, even for first time offenders. We try to avoid that." The DUI Team offers a no cost consultation to help people who are hiring a DUI attorney in Tempe can find out potential outcomes for their case.
"It is an honor to receive recognition from the American Society of Legal Advocates. It is our goal at The DUI Team to provide intelligent and comforting legal advice during what is often a stressful time for most people," says Attorney Sloan. According to their reviews the Tempe and Scottsdale DUI Lawyers at The DUI Team are compassionate yet extremely competent. The DUI Team investigates every case thoroughly and they approach the evidence from every angle so nothing is missed according to Brian Sloan. "Investigating the case thoroughly is an extremely important part of the defense process. We hear stories all the time where the attorney someone hired didn't do any investigating and just stood next to the defendant while they were sentenced. We investigate to formulate the best defense we can."
Tempe DUI attorney Brian Sloan focuses his practice at The DUI Team on drunk driving defense in the Phoenix area including Scottsdale and Mesa and has been named multiple times to the list known as "Rising Stars" by SuperLawyers.com. He has been also been named multiple times to the Top 100 List by the National Trial Lawyers Association. His "Superb 10.0/10.0" rating on Avvo.com, a professional ratings website, from both clients and peers speaks to his superior qualifications as a defense lawyer. To take advantage of the no cost consultation with an experienced attorney please call (480) 382-5562.
The DUI Team
60 E Rio Salado Pkwy
#900d
Tempe, AZ 85281
(480) 382-5562
Open 24 hours