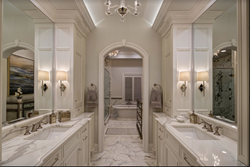 It's always an honor to be recognized by designer industry peers. As we accept these prestigious awards, we thank our visionary clients, our talented team and our partner vendors for their contributions to our collective success. - Gail Drury, CMKBD
GLEN ELLYN, Ill. (PRWEB) October 30, 2018
Winning ten awards, the Drury Design team shined at the NKBA (National Kitchen and Bath Association) Chicago Midwest Design Vision Awards, including five in kitchens, five in baths, Best in Show, and Most Dramatic Makeover. Founded in 1987 by Gail Drury, CMKBD, Drury Design is a creative, award-winning home design and remodeling firm with over 2,000 projects installed in homes throughout the Chicago area; the company specializes in artistic luxury kitchens, baths, and interior remodeling projects. View the Drury Design kitchen and bath portfolio at https://www.drurydesigns.com/portfolio/.
"It's always an honor to be recognized by designer industry peers," said Gail Drury, CMKBD, president and creative director at Drury Design. "As we accept these prestigious awards, we thank our visionary clients, our talented team and our partner vendors for their contributions to our collective success. Drury's client-focused design process built on client collaboration from client ideas, to designing, to building to realizing creative design solutions that transform rooms into living spaces."
The mission of the National Kitchen and Bath Association - Chicago Midwest chapter is to align with the NKBA to enhance member success, promote professionalism, ethical business practices, education, leadership, and direction for the kitchen and bath industry. Founded in 1963, The National Kitchen and Bath Association, (NKBA), is the world's leading trade association for the kitchen and bath industry.
2018 NKBA Chicago Midwest Design Vision Award Winners
Janice Teague, CKD, CBD
Best Medium Kitchen Before & After
Best Large Kitchen Before & After
First Place Medium Kitchen
Third Place Large Bathroom
Diana Burton
Second Place Medium Kitchen
Second Place Large Kitchen
Gail Drury, CMKBD
Most Dramatic Makeover, chosen by Luxe Interiors + Design
Best of show, Edmund L. Zielinksi Award
First Place Large Bathroom
Second Place Large Bathroom
Chicago Gold Coast Master Bath Remodel Wins Three Awards
Perfectly built into to match the 1879 historic home's character, this bath remodel transformed a small space into a lavish and functional master suite. A modified floor plan borrowed space from an adjoining bedroom and closet to make room for new amenities. His and hers identical vanities line the walls of the entrance and lead into a marble detailed bathing area.
1895 Hinsdale Coach House Kitchen Renovation Wins Two Awards
This kitchen is in a unique home, which was originally built as a carriage coach house for a large adjacent estate. After raising two children in the house and becoming empty nesters, the homeowners wanted to update the kitchen for entertaining, something they had wanted to do for years.
Hinsdale "Toy" Kitchen Go Adulting and Wins Second Place Medium Kitchen
The clients loved their neighborhood and home, but the kitchen did not work for their lifestyle. The existing kitchen was closed off from the rest of the main level, and there were only a few tiny cabinets. The homeowner called it a "toy" kitchen. Connecting the kitchen to the dining room was also a priority.
Naperville Home Remodel Resizes and Wins Best Large Kitchen Before and After
In the early 1980s, the homeowners built the home and raised their three children there. As empty nesters, they wanted the space to feel warm and cozy for the two of them, but also welcoming when their children and grandchildren visited.
Chicago Brownstone Home Renovation Wins Second Place Large Kitchen Award
This beautiful brownstone is in the city on a double wide lot. With high ceilings, loads of natural light, and plenty of character, it lacked for nothing - except a functional kitchen. Closed off from the rest of the living space, the kitchen was cramped and outdated.
Hinsdale Master Bath Remodel Wins Third Place Large Bathroom
When the clients moved into the home, built in the 1980s, they knew from the start the master bathroom desperately needed remodeled.
St. Charles Small Master Bath Gets Reimagined and Wins Second Place Large Bathroom
A once cramped master bath floor plan expanded to create a multifunctional master spa suite. Borrowing space from an adjoining bedroom closet to create room for the freestanding tub, the commode and shower were combined into one space, and a half wall was designed to brighten and open up the steam shower.
Continually recognized for artistic design excellence, the Drury Design team has been honored with over 80 design industry awards, including Trend Magazine's Top 50 American Kitchens, KBDN's Top 50 Innovators, Best of Houzz, American Society of Interior Design (ASID) and National Kitchen and Bath Association (NKBA) Best of Show.
To interview Gail Drury, CMKBD, about luxury home design trends or to request permission to use an image, contact Jim Drury at 630.469.4980.