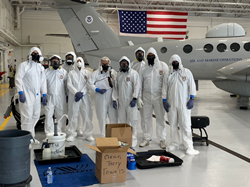 "Our team is working diligently to clean and disinfect homes and businesses in response to the COVID-19 pandemic," said Michael Jatoft, CEO of Dry-Concepts.
FT. LAUDERDALE, Fla. (PRWEB) April 01, 2020
Dry-Concepts, Florida-based cleaning and restoration company, is providing disinfection services to Florida residents and business owners to combat the spread of the Coronavirus (COVID-19). Dry-Concepts is following guidelines set by both the Environmental Protection Agency (EPA) and the Centers for Disease Control and Protection (CDC) to thoroughly clean, disinfect, and sanitize surfaces that may have been exposed to the virus.
"Our team is working diligently to clean and disinfect homes and businesses in response to the COVID-19 pandemic," said Michael Jatoft, CEO of Dry-Concepts.
Dry-Concepts is using a multi-step approach to clean potentially affected surfaces. They first use an EPA-registered disinfectant to clean key touch points in a home or business. The tools and materials used meet the specific requirements of the emerging pathogen procedures for enveloped viruses (the class of organism of the SARS & COV-2). This cleaning process targets the areas that are most likely to be exposed to pathogens, including doorknobs, countertops, cupboard handles, computer/electronic equipment, and many more.
After a thorough touch point disinfection, Dry-Concepts uses a proprietary fogging machine to further clean the entire area. The fogging equipment allows the technician to clean and disinfect residual pathogens that may have spread throughout a space. The fog used is a hydrogen peroxide-based disinfectant that is stabilized with silver ions. The result is a deep clean that goes far beyond traditional disinfection measures.
Dry-Concepts provides its cleaning and disinfectant services to both residential and commercial customers. They are fully operational during the COVID-19 pandemic and are considered to be essential service company and are ready to quickly respond to those needing coronavirus disinfection services.
Dry-Concepts is also keeping up to date with the latest coronavirus research and developments from the CDC. The company is dedicated to using the most effective cleaning measures to fight this virus by updating their cleaning techniques as new information is released. With decades of infectious disease control experience, Dry-Concepts understands the threat of this virus and the best possible ways to keep their consumers safe.
About Dry-Concepts:
Dry-Concepts has been in the cleaning and disaster restoration industry for 41 years (Since 1979). Dry-Concepts is using the most up to date and innovative procedures, chemistry and tools that are available to the restoration industry. We are always keeping up to date with new breakthroughs at trade association conventions, continuing education courses for our staff and trade association bulletins. This experience along with the guidance of the CDC/EPA and our own industry trade associations (RIA and IICRC) puts Dry-Concepts in a unique position to help combat the current issues with COVID-19. Dry-Concepts is continually monitoring the latest news and developments that are taking place in regards to COVID-19 and as things change Dry-Concepts will be positioned to respond.
Visit https://www.dryconcepts.com/ to learn more about the company's COVID-19 disinfection services or call them at 954-370-7778 (Broward County) or 800-248-5071 (Palm Beach/Dade/Orlando).