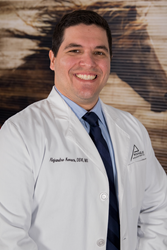 LONGVIEW, Texas (PRWEB) November 21, 2018
At Pinnacle Implants & Periodontics, Dr. Alejandro Kovacs recently acquired the latest imaging technology to help patients receive more comfortable treatment experiences when being evaluated and fitted for dental implants. As a dual board-certified periodontist and prosthodontist in Longview, TX and his second location, Texarkana, TX, Dr. Kovacs strives to implement modern technology for precise, predictable and comfortable treatment. By using the state-of-the-art, wireless 3Shape TRIOS intraoral scanner, Dr. Kovacs streamlines the process of receiving numerous treatments including dental implants, thoroughly examining the exact location each implant should be placed as well as the precise contours of final restorations.
Traditionally, a periodontist or prosthodontist mapping out a strategy for dental implant placement would rely on eyesight, metal tools or outdated technology to understand the contours and intricacies of patients' mouths. The wireless 3Shape TRIOS intraoral scanner does the same job in much less time and with much greater accuracy. This leads to a higher degree of patient relaxation, faster appointments and more lasting results.
In the majority of cases, this intraoral scanner eliminates the need for messy impressions. After the scanner has passed over the teeth and gums, it feeds information into the computer and generates a dynamic, 3D model of the patient's mouth. Because of the precision of the 3D model, Dr. Kovacs can more securely place dental implants, raising short-term and long-term success. Not only is this a powerful way for Dr. Kovacs to plan guided implant surgery treatments, but it also makes getting treatment easier for those with dental anxiety or strong gag reflexes.
The TRIOS scanner is an integral part of many treatments. Assisting in the construction of mouthguards to soften the impact of TMD or temporomandibular joint disorder, the scanner can directly contribute to generating customized appliances that prevent tooth grinding and ensure the jaw remains in a neutral position. The scanner also provides detailed data to assist Dr. Kovacs in offering dental implants, implant-supported dentures, full mouth reconstructions, orthodontics and tooth extractions.
Those interested in making an appointment with a dual board-certified periodontist and prosthodontist in Longview, TX, or Texarkana, TX, with the latest dental technology are encouraged to contact Dr. Kovacs' practice, Pinnacle Implants and Periodontics.
About the Doctor
Pinnacle Implants & Periodontics offers comprehensive periodontal care for patients in Longview and Texarkana TX. Dr. Alejandro Kovacs is a Diplomate of the American Board of Periodontology, the American Board of Prosthodontics as well as the International Congress of Oral Implantologists. As one of only a few dual board-certified clinicians in the nation practicing as a periodontist and prosthodontist, he offers cutting-edge services including dental implants, laser gum disease treatment, gum recession care and full mouth reconstruction. To learn more about Dr. Kovacs, his team or the services they offer, visit http://www.pinnacleperio.com or call Pinnacle Implants & Periodontics at 903-758-3329 for the Longview location or 903-838-0511 for the Texarkana practice to schedule a personalized consultation.