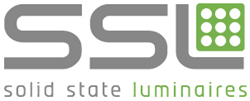 By moving the adjustable reflector, you can control having two even lines of linear light, one side partially lit, or one side lit and the other cut off.
St. Charles, Illinois (PRWEB) August 02, 2017
DualLine LED (DL) - is a newly released Linear Indoor lighting fixture from Solid State Luminaires. It's IP20 rated for indoor use only and designed to be wall mounted using a single-gang J-box. This LED luminaire has an adjustable face reflector used to control the light distribution and luminance. The face reflector provides indirect lighting that is common with today's specifications for interior design applications. DualLine fixtures are constructed of aluminum and made in two lengths, 1-foot (12") and 4-foot (48"). A range of white LEDs were chosen to fit various industry applications. 2700K white is warmer and less bright. 3000K and 3500K white are more neutral in appearance, slightly brighter. 4000K white has a cooler, brighter and more contemporary look. There are also 10 static color LEDs for specification. The colored LEDs cover a wide spectrum including standard Red, Green, Blue and Amber LED, as well as, Pink, Violet, Light Blue, Spring Green, Yellow and Golden Yellow. DualLine has an integral 120–277V driver and so does not require the additional installation of a remote driver. Its power consumption uses 5.5 Watts per foot. It has flicker-free dimming to 1% full brightness ELV trailing edge. The DualLine linear face is rounded and functions as a light cutoff when adjusted all the way to one side or the other. A new flat face and hybrid face with one side curved will be released soon. It's ADA Compliant (Americans with Disabilities Act) with height and width dimensions of only 2.7 inches, allowing the disabled access by and around the fixture.
DualLine LED is specifically designed for indirect lighting applications with the ability to control its directional lighting pattern. By moving the adjustable reflector from side to side, it changes the result of the light pattern. The resulting pattern changes from two even linear lines of light, to one side being partially lit, to finally having one side lit and the other light pattern cut off. Once a desired setting is achieved the reflector can be locked in place with a screw that's concealed under the face at the end. In this description the face and the reflector are one in the same. The face faces outward and the reflector side faces the LED boards. The LEDs are rated 3-step McAdam Ellipse, have a Color Rendering Index (CRI) of 87, and a lifetime rating of 70,000 hours. The LED boards are housed within the aluminum structure and are covered using a diffused lens.
The aluminum housing is powder coated for a durable finish. It's offered in standard colors of white, silver, bronze and black. White is most common for greater light reflectance. However, the aluminum face and housing can be powder coated any custom color to match different design ideas, by submitting a color swatch or providing an RAL color chip reference. The durable 8-stage powder coat passes the industry standard 5000 hour salt spray test (ASTM B117), and is directly applied at our manufacturing facility. Whether DualLine is installed vertically, horizontally or diagonally, the back mounting plate has a butterfly pattern that attaches directly to a single-gang J-box and has extra holes in the back plate to secure it to the mounting surface.
DualLine is made in the U.S.A. at our manufacturing facility in St. Charles, Illinois. This hybrid fixture was engineered to have particular capabilities to broaden the Solid State Luminaires Linear Indoor product line. As a new addition to our product lineup in the Linear Indoor lighting category the intended application use is broad, ranging from hotel rooms, lobbies, theaters, hallways or museums and other settings requiring a more subtle, indirect lighting distribution. See the DualLine product specification sheet for available options.