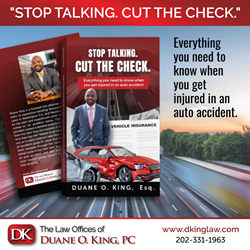 WASHINGTON (PRWEB) November 09, 2020
The Law Offices of Duane O. King is pleased to announce the publication of Stop Talking, Cut the Check: Everything You Need to Know When You Get Injured in an Auto Accident, a guide that walks a victim through the experience of a car accident from the moments after the accident until they close their case. Duane King, the founder of the law firm, took more than 15 years of experience and created an easy-to-read manual to assist victims of car accidents every step of the way.
Being involved in a car accident can be a scary and traumatic time for people. They could be facing serious injuries and rising medical bills. King's step-by-step instructions offer victims a strategy they can follow so they can avoid common pitfalls. The book follows a person's path from submitting an insurance claim up until the moment the person signs the "release of all claims" form or goes to trial, symbolizing the end of the case. King opened his own law firm in 2007 and since then has been working with countless injury victims to help them receive just settlements. To purchase the book online, click here.
For more information or to speak to a DC or MD car accident lawyer at the Law Offices of Duane O. King, call 202-331-1963 or visit http://www.dkinglaw.com.