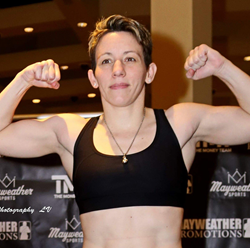 It is good to see women boxing advance and we look forward to hosting more such events in both Dubai and Abu Dhabi.
DUBAI, United Arab Emirates (PRWEB) April 09, 2021
Female Boxing will be center stage at Dubai War On The Shore 4, the over-the-top boxing gala dinner being held April 10, 2021 at Arabian Ranches Golf Club in Dubai, with two Top Ten boxers.
5-class world champion Layla McCarter, the most dominant female fighter of her era, is now joined by Ivana Habazin of Croatia. Habazin is a former two-weight world champion, having captured the IBF female Welterweight title in 2014 and the IBO female Middleweight title in 2018, recently lost to Clarissa Shield.
Dubai War On The Shore 4 is promoted by Emirates Sports and Lion Heart Boxing Productions, and is sponsored by UAE Boxing Federation, Dubai Sport Council, Arabian Ranches Golf Club, Emaar Properties, Transform Clinic, Buka Boxing, Regent Street Clinic and Balquees Honey.
Limited Gala invitations are available. Contact Arabian Ranches at +(971)04-2664700 or the Promoters at info@esn.ae or +(971)052-2799176.
About "Dubai War on the Shore"
The Genesis Episode of Dubai War On The Shore, Dubai War On The Shore 1 Championships, was held in 2007 at the Le Meridien Mina Seyahi Hotel in Dubai, UAE. That event and the second episode in the series, Dubai War On The Shore 2, were broadcasted on Fox Sport TV, Al Jazeera Sport TV, Dubai Sport, and NTV+ (Russia). The third episode of "Dubai War On The Shore" was held as a part of International Thailand vs. Challenger Series, the renowned project of Elite Boxing and was broadcasted all over the world to over 600 million viewers worldwide.
The promoters' goal is to develop Dubai War On The Shore into a major UAE sporting brand to be exported worldwide. Dubai War On The Shore also is expected to be unique as opportunity to help develop the sport of Boxing in the UAE and the MENA Region as Dubai War On The Shore will be used a platform to facilitate the further development of Arab boxers in general and Emiratis in particular. The promoters see the potential of the UAE as the next 'Boxing Mecca' and are pioneers and early movers in the space.
Limited Gala invitations are still available and may be arranged at Arabian Ranches, +971 04 266 4700 or the event promoter at +971 052 279 9176.
For more information, please, contact:
Yvonne "Ava" Mercado
Mobile Excellence Marketing
Brooklyn, New York
(646) 725-6128
ym.memes@gmail.com
http://www.DubaiWarOnTheShore.com
Fighter interviews, exclusive stories, and JPEG photos of the fighters and events are available upon request by calling Ava Mercado, Lion Heart Boxing Productions Vice President of Public Relations, at +1(646) 725-6128 or Event Promoters Vladimir Burdun at +(971) 58 532 7011, Murad Hamed at +(971) 58 523 2309 and Edward Bissau Mendy at +(971) 52 279 9176. Direct sponsorship questions to Ava Mercado or UAE Sponsorship Director, Sajid Ali at +(971) 54 443 3755.