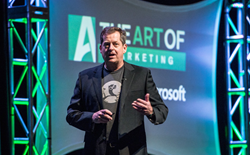 Making your online presence more accessible...is not only the right thing to do, it's the law in many cases. With Max Access you get a powerful tool that automates many of your ADA compliance tasks at a price that makes it a very practical solution for a business of any size," said John Jantsch.
EUGENE, Ore. (PRWEB) April 21, 2021
Prominent US marketing agency Duct Tape Marketing today announced a strategic partnership with Online ADA, a leading digital accessibility agency, to increase Duct Tape Marketing's web accessibility and encourage members to enhance their own.
Duct Tape Marketing will utilize Max Access, Online ADA's AI-powered digital accessibility solution, to ensure a high level of accessibility on their website. The accessibility improvements that Duct Tape Marketing will gain through using Max Access will offer essential support to 61 million Americans living with disabilities, allowing more users to engage with online content and perform crucial tasks like navigating through menu options, scheduling a consultation, or purchasing a product.
The partnership will also encourage Duct Tape Marketing Consultant Network Members to incorporate digital accessibility into their own websites and content, advocating for broader accessibility recognition and incorporation.
To provide a level of accessibility that supports web users, Max Access acts as an accessibility toolkit: it incorporates AI technology, weekly compliance reports, a customizable front-end toolbar, supplemental training, and next-step manual remediation recommendations in order to identify and remediate accessibility violations outlined by the Web Content Accessibility Guidelines (WCAG).
"It's exciting to work with business legends like John Jantsch who really understand that it's the agencies and developers who are the changemakers, working on making our digital world accessible," said Shaylor Murray, Founder of Online ADA.
Using Max Access will allow Duct Tape Marketing's website to offer accessibility support that helps comply with laws such as the Americans with Disabilities Act and meet the international recommended accessibility standards set by the W3C and outlined in the WCAG.
"Making your online presence more accessible and complying with ADA regulations is not only the right thing to do, it's the law in many cases -- but doing so can prove to be a burden for small business sites," said John Jantsch, Founder of Duct Tape Marketing. "With Max Access you get a powerful tool that automates many of your ADA compliance tasks at a price that makes it a very practical solution for a business of any size."
In addition to providing essential support to web users with disabilities, Duct Tape Marketing's level of accessibility will offer opportunities to expand their reach to a wider audience and continue to establish themselves as a socially conscious, inclusive brand. The company's advocacy for digital accessibility -- and the encouragement they give their Network Members to incorporate it as well -- complements their mission to train and teach small businesses in order to help them thrive. Since Max Access improves a company's digital accessibility for web users, web users and small businesses will both see the benefits.
According to the World Health Organization, roughly 1 billion people in the world live with a disability. Despite that equaling 15% of the global population, a recent study found that 98% of website home pages are still failing accessibility requirements such as accurate alt-text for images, proper menu and page hierarchy, and suitable color contrast ratios. Online ADA has seen rapid growth in recent years as more businesses recognize the importance of digital accessibility and take action to provide equal access.
About Online ADA
Online ADA is a leader in the digital accessibility industry, specializing in software-as-a-service and accessibility certifications that are rooted in WCAG and ADA compliance. They help companies address accessibility issues on their websites and maintain compliance with ever-evolving accessibility requirements. Online ADA's mission is to create a more inclusive, equal digital world and empower companies with the necessary tools to enhance their accessibility. To learn more, visit onlineada.com.
About Duct Tape Marketing
Duct Tape Marketing specializes in simple, effective, and affordable small business marketing and training. Founder John Jantsch created the duct tape marketing strategy, which has earned recognition around the world for its practical, easy-to-implement steps and support for small business owners and entrepreneurs. John is a bestselling author of several books, including Duct Tape Marketing, The Referral Engine, and The Self-Reliant Entrepreneur, and has been featured on The New York Times, USA Today, Bloomberg, Inc., and more. To learn more, visit ducttapemarketing.com.