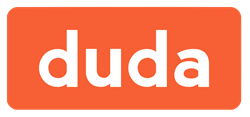 PALO ALTO, Calif. (PRWEB) September 22, 2020
Duda, the professional website builder that digital agencies and SaaS companies can call their own, announced the launch of its new Duda University education program. This online resource offers free on-demand education and certification to help web professionals expand their knowledge and grow their businesses.
"Over the years, thousands of web design and digital marketing professionals have built their businesses and careers with Duda's platform," said Itai Sadan, CEO of Duda. "We believe this is due to our company's intense focus on the needs of web professionals. Duda University gives us the ability to build on this core competency and offer our customers and partners something that will enhance their skills and accelerate their professional opportunities," he continued.
Duda University is available to anyone with a Duda account and their team members, including free trial accounts. Course content is structured by role, with learning courses designed specifically for agency owners, designers, developers, agency sales professionals, and other related functions.
Upon earning a certification from Duda University, users receive a unique, verifiable certificate that validates their Duda platform and web design expertise. This can be easily added to a LinkedIn page, personal resume or website.
Duda University offers a variety of benefits to all web professionals including:

Engagingly teaching the fundamentals of web design and related relevant skills.
Streamlining recruiting and onboarding for both companies and candidates by providing a verifiable mechanism to rapidly identify web professionals who have earned Duda University certifications.
Providing a way for web professionals to display career proficiency with one of the industry's leading professional website builders, through showcasing verifiable Duda certification credentials on a LinkedIn profile, CV or personal website.
For more information on Duda University, visit https://education.duda.co.
About Duda
Duda is the professional website builder built for you. Duda's industry-leading white label web design platform is used by all types of customers, from freelance web professionals and digital agencies, to the largest hosting companies, SaaS platforms and online publishers in the world.
Loaded with powerful team collaboration and client management tools, the Duda platform enables the building of feature-rich, responsive websites at scale. Every Duda website is automatically optimized for Google Lighthouse and great out-of-the-box SEO.
Duda has partnered with some of the biggest players in the industry, including Thryv, Hibu, Italiaonline, 1&1 Ionos, UOL, Sensis, Publicar, Solocal, Telstra, Broadly and Shore. The Company was founded in 2009 by Itai Sadan and Amir Glatt and is headquartered in Palo Alto, California. Learn more at https://www.duda.co.