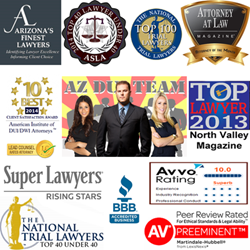 Having an experienced Tempe DUI lawyer can often help defendants to receive lesser charges, especially for first-time offenses
Tempe, AZ (PRWEB) March 21, 2015
Tempe DUI Lawyer, Brian D Sloan has helped thousands of people with DUI charges in the Greater Phoenix area and has many years of experience. He has written information about what to do if you are arrested for DUI and he has also written information clarifying common DUI myths. The pages are now available on the website and they contain valuable information about the process of handling criminal charges.
Arizona has become known as one of the harshest states in the country for its DUI laws. Drivers who are arrested for driving under the influence, a drug related DUI or a prescription drug related DUI can receive anywhere from 24 hours in jail to 3 years in prison if convicted of DUI charges, depending upon their prior offenses and the results of breath and blood tests. In Arizona, a person over 21 is considered to be driving over the influence with a blood alcohol content of 0.08 or more. The state has a no-tolerance policy for drivers under 21. "Having an experienced Tempe DUI lawyer can often help defendants to receive lesser charges, especially for first-time offenses. Our DUI attorneys in Tempe understand Arizona laws for drunk driving and drug related DUI's and we fight for clients brought up on different types of Driving Under the Influence related charges, says Brian D Sloan.
Along with jail or prison time, defendants can face fines of anywhere from $250 to $3,250, license suspension or revocation for 30 days to three years, drug treatment programs, ignition interlock devices and community service for an alcohol related DUI. Charges for a drug related DUI, including a prescription drug related DUI, may differ, depending on the judge. Tempe police and judges take drunk driving seriously, especially extreme DUI charges resulting from a blood alcohol content of 0.15 or higher or aggravated DUI charges stemming from driving with a suspended or revoked license. "For any type of DUI charges people may need a DUI lawyer in Tempe who can help them to find a defense and make sure their rights are upheld in court," says Attorney Brian D. Sloan.
DUI charges can leave any defendant in Arizona feeling overwhelmed and scared, especially if they are facing DUI charges for the first time. Facing DUI charges for a second or third offense can be even more overwhelming because of the possibility of higher fines, a longer license suspension or revocation and more time in jail or prison. "Having the services of our DUI attorneys in Tempe can ensure all pertinent documents have been reviewed and every defense angle has been considered. Our experienced Tempe DUI lawyer will make sure to review police records carefully, looking for any discrepancy. With the help of a member of The DUI Team, a defendant may be able to get a lesser sentence, such as reckless driving, or less a charge with less severe penalties."
To learn more about the Scottsdale DUI attorneys at The DUI Team please visit their website. To schedule a no cost consultation and case evaluation please call (480) 382-5562. People actively hiring a drunk driving lawyer are also encouraged to read their blog posts and press releases as well as view their informative videos pertaining to the defense of DUI.
The DUI Team
60 E Rio Salado PKWY
Suite 900D
Tempe, AZ 85281
(480) 382-5562