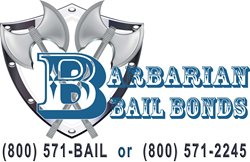 A DUI charge in Orange County is not only a problem for the person arrested, but the relative or friend who has to figure out how to post bail.
(PRWEB) August 28, 2015
Barbarian Bail Bonds, one of Orange County's top-rated bail bonds, is proud to announce a new informational web page on DUI bail bond issues. The company has seen tremendous interest in its bail bonds services, especially with respect to DUI charges.
"A DUI charge in Orange County is not only a problem for the person arrested, but the relative or friend who has to figure out how to post bail," explained Francisco Cobo, owner of Barbarian Bail Bonds. "Our new informational page helps residents of cities such as Santa Ana or Fullerton understand how the bail bond process works, and showcases our expertise as a bail bond service for DUI's."
To visit the website page, go to http://www.barbarianbb.com/dui-bail-bonds/. There, one can read information about the bail bonds process for drunk driving (DUI) offenses in Anaheim, Fullerton, Santa Ana, and other towns in Orange County, California.
Posting Bail for a DUI in Orange County is Not Difficult with a Skilled Bail Bondsman
In Southern California, driving under the influence of alcohol or drugs is a common booking. There are many reasons why an Orange County resident is pulled over and arrested for DUI. Among the more common cities are Fullerton, Santa Ana, and Anaheim. With a focus on entertainment and fun, due to the prevalence of theme parks and the Southern California beaches, unfortunately, DUI arrests are more and more common. The final judgement as to the guilt or innocence of an affected party, as well as the punishment, is, of course, for the courts to decide.
With respect to bail, family members only want to learn how to post bail as quickly, easy and cheaply as possible. Contacting a skilled bail bonds service that specializes in DUI cases and understands the legal system is the first step. Barbarian Bail Bonds reminds Orange County customers that paperwork for drunk driving offenses can be processed easily 24 hours a day, 7 days a week. From Santa Ana to Temecula to Victorville, the best bail bonds service will come to the home and help process DUI bail paperwork quickly and affordable.
About Barbarian Bail Bonds
Barbarian Bail Bonds is Southern California's best bail bonds service. With offices in Orange County, San Bernardino County, and Riverside, the company's bail bond agents are convenient to clients anywhere. Whether a client is looking for a Fullerton bail bonds or a Bail Bonds in Santa Ana, whether the search is for affordable (even cheap) bail bonds in Victorville or Temecula Bail bonds, Barbarian Bail Bonds has both offices to serve clients and agents that can come to a residence. The company offers 24/7, emergency bail bonds services and can explain how the bail bond process works. Bail Bond offices include the cities of Fullerton, Santa Ana, Victorville and Temecula California, with service areas of approximately twenty five miles from any office.