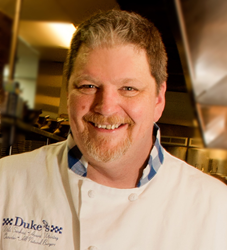 It's incredible to only serve the best sustainable seafood in the world.
Seattle, WA (PRWEB) March 26, 2015
Wine connoisseurs and food aficionados alike will find the best that Washington state has to offer at Taste Washington, the nation's largest single-region wine and food event taking place in Seattle from March 26th through the 29th. Duke's Chowder House's Executive Chef, "Wild" Bill Ranniger, will represent the iconic seafood restaurant where his team will serve Lobster Mobster Chowder and Pesto Salmon for close to 3,000 guests at the 'Grand Tastings' held on Saturday and Sunday at CenturyLink Field Event Center located in SODO.
In anticipation of the Taste Washington event, Ranniger invited 20 members of the press in early March to sample a dozen offerings and allow the media to choose their favorite bites. In light of the group's decision at the private tasting, Duke's has announced that it will be serving samples of its Lobster Mobster Chowder and Pesto Salmon–two highly renowned crowd pleasers. The group's unanimous favorite, Duke's creamy lobster chowder, is made with Langostinos and a lobster base.
Better known at Duke's as "Wild" Bill, Chef Ranniger has been working at the popular seafood restaurant for the last 20 years, taking on the role as the restaurants' Corporate Executive Chef in 2005. Ranniger is most proud of assisting Duke's in achieving the highest rating for a seafood restaurant in the State of Washington by Fish2Fork, an independent third party rating organization. Ranniger commented, "It's incredible to only serve the best sustainable seafood in the world."
Duke's is famous for winning the Seattle Chowder Cook-off 3 years in a row before they were banned from the competition for winning too many times. Winning the contest was a game changing event for Duke's launching their involvement with wild, sustainable seafood.
Taste Washington attendees can sample Duke's delectable samples at booth 8-C, adjacent to the Jaguar sponsored Seattle Wine Bar. In addition, guests can try wines from over 230 Washington state wineries that will be in attendance.
For more information about Duke's Chowder House, visit its website at http://www.dukeschowderhouse.com/. For more information about Taste Washington, go to: http://tastewashington.org/. Stay social at #TasteWA with Duke's Chowder House: #TasteChowder #TasteSalmon.
For national media inquiries, contact Tina Carey at askbettina(AT)gmail.com.
For local media inquiries, contact Tamara Wilson at tamaraw(AT)tamarawilson.com or Megan Wenner at meganw(AT)tamarawilson.com.
About Duke's Chowder House:
A premier seafood restaurant with six locations throughout the Puget Sound region, Duke's Chowder House is renowned for its variety of hearty chowders and fresh seafood dishes. Founder and Co-owner Duke and son and Co-owner John– continue their passionate journey to source all natural, healthy and fresh ingredients. Duke's is an upscale, casual Pacific NW seafood concept offering 100% sustainable wild seafood, Award Winning Chowder and grass fed burgers in a friendly and comfortable environment that's filled with personality.