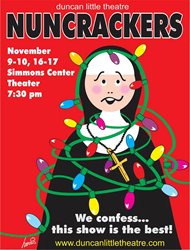 DUNCAN, Okla. (PRWEB) November 03, 2018
Duncan Little Theatre will bring "Nuncrackers" to the Simmons Center Theater stage on November 9, 10, 16 and 17. Performances will begin at 7:30 PM with the box office opening at 6:30 PM prior to each nightly performance. Mark your calendars now to attend this hysterical musical comedy.
"Nuncrackers" is presented as the first TV special taped in the Cable Access Studio built by Reverend Mother in the convent basement. It stars the nuns you love from the Nunsense series, plus Father Virgil, and eight of Mount Saint Helen's most talented students. Featuring all new songs including Twelve Days Prior to Christmas, Santa Ain't Comin' to Our House, We Three Kings of Orient Are Us and It's Better to Give than to Receive, this show is filled with typical Nunsense humor, some of your favorite carols, and a "Secret Santa" audience participation. We're certain this Nunsense Christmas Show will make you laugh, and maybe tug at your heartstrings. It's the perfect way to insure that your holiday season is merry and bright!
This show is directed by Michael Harris and produced by Beth Ann Hough and Brett Lovett. The choreographer is Cheri Spurgin. Cast includes Loisdawn Jones, Leigh McEntire, Sonja Skinner, Katherine Farrow, Michele Jones, Derrick Miller, and students.
Tickets will be $20.00 per adult and $15.00 per senior, student, and military. Tickets are available online at http://www.duncanlittletheatre.com or by cash/check at the Simmons Center events office. For more information, please contact Duncan Little Theatre at (580) 252-8331.