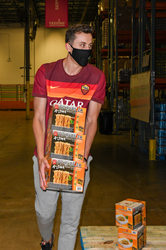 LOS ANGELES (PRWEB) December 29, 2020
Duncan Robinson of the Miami Heat got an assist from A-Sha Foods this holiday season, donating 10,000 packs of ramen noodles to the non-profit Feeding South Florida, a non-profit domestic hunger-relief organization serving 25% of Florida's food insecure population.
Robinson, who helped his team reach the 2019-2020 NBA Finals by setting a franchise record for the most three-pointers in a single season, arrived at the Feeding South Florida warehouse the afternoon of December 12, 2020, helping to unload five pallets of A-Sha Dry Noodle, authentic Taiwanese noodles that are air-dried and contain 10G of protein, all purchased at retail from the local Pompano Beach, FL Costco club.
As TMZ Sports reported, Robinson "ended up hand-delivering his contribution on Saturday in Pembroke Park, FL ... rolling up his sleeves and personally helping dish out the packs of ramen noodles." Bleacher Report, among many others, also covered the story, as well as lifestyle publications like Hollywood Life and Extra.
Though it isn't the first time the burgeoning basketball star has been connected with A-Sha Foods (Robinson gave them a shout-out last month in his Instagram Stories), the donation arose out of a mutual desire to help the hungry. Robinson, describing it in an Instagram post published on December 15, 2020, was "honored to have the opportunity to partner with my favorite noodle brand @ashadrynoodle to bring a little bit of comfort to families in need during this difficult time."
About A-Sha Foods USA
Based in Alhambra, California with roots in Taiwan, A-Sha Foods USA are producers of the world's best healthy noodle dishes. A-Sha noodles are made with only the highest quality ingredients, containing 10g of plant-based protein per package without any of the extra, artificial flavors, colors and preservatives often found in conventional fried noodle offerings. Fresh, flavorful, and aromatic, A-Sha invites you to be delighted by the convenience of easy-to-make ramen that's delicious, nutritious, and prepared with nothing suspicious. Visit ashadrynoodle.com for more information.