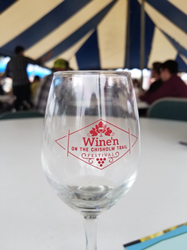 DUNCAN, Okla. (PRWEB) August 27, 2020
Duncan, the Heart of the Chisholm Trail, will be the proud host to a number of exciting events over the Sept. 11-12 weekend. Whether you're a wine connoisseur, a coin collector, or a shopper with a passion for homemade furniture and boutiques, you'll certainly find what you're looking for in Duncan, OK this September.
Wine'n on the Chisholm trail is a fun, two-day festival featuring local Oklahoma wineries, food and vendors scheduled for September 11-12. Stop by the Wine'n on the Chisholm Trail Festival on Main Street Duncan to taste a wide variety of Oklahoma wines and enjoy live music. A wine glass will be included with admission, and wine by the glass, bottle or whole case will be available for purchase. Friday night includes an Italian style dinner with entertainment under the Oklahoma stars on Main Street by candlelight. Saturday includes wine tastings, vendors, door prizes, entertainment, and more. Visitors must be 21 and older to enter tasting area. There is a separate, close-by section for those under the age of 21. For more information, please visit https://mainstreetduncan.net/.
Grab your friends and get a head start on all of your Christmas shopping at the 2 Hip Chicks Roadshow on Saturday, September 12 from 9:00 AM-4:00 PM at the Stephens County Fair & Expo Center. With over 100 booths, you'll find a wide assortment of offerings including boutiques, jewelry, repurposed furniture, home décor, wood work, and more. Admission will be $5.00/person and 12 or under are free.
Head out to the Stephens County Coin Show in Duncan to browse through row upon row of coins to buy, sell and trade. Find out what your treasured coins are worth or hunt down the elusive coin you've been searching for. This coin show features antique coins and more from all over the United States. You'll find the annual coin show at the Stephens County Fair & Expo Center on Friday and Saturday, September 11-12, 2020.
For much more information and a full list of upcoming events in Duncan, please visit http://www.visitduncan.org.