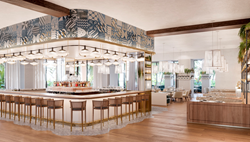 FORT LAUDERDALE, Fla. (PRWEB) October 25, 2018
On November 29, 2018, Auberge Beach Residences & Spa will unveil its highly anticipated new venue, DUNE – a sweeping indoor-outdoor restaurant and bar set on a coveted stretch of beach in Fort Lauderdale. It is the first East Coast restaurant from Auberge Resorts Collection, the hospitality brand that began by opening Napa Valley's first fine-dining venue – Michelin-starred Auberge du Soleil – and then expanded to operate award-winning resorts internationally, such as Hotel Jerome in Aspen, Nanuku in Fiji, and Esperanza in Los Cabos, Mexico. DUNE will welcome residents, the community and sun-seeking visitors with dishes inspired by the sea, exciting cocktails and a Napa-inspired wine list, all delivered with Auberge's genuine warmth and hospitality.
"We created DUNE to be a casual contemporary restaurant that guests will want to return to again and again," said Craig Reid, Chief Executive Officer, Auberge Resorts Collection. "Our location right on the beach is warm and welcoming. The menu is ingredient-driven, upscale but never fussy, and our beverage program is inspired by our Napa Valley roots and the great gathering places we've created at our award-winning resorts. With its incredible cuisine and beverage program and this spectacular setting, DUNE will feel as good for Friday night dinner under the stars as it does for Sunday brunch. We're excited to welcome our first guests and be a part of the vibrant Fort Lauderdale community."
Helming the new restaurant is Executive Chef Edgar Beas, who brings a distinct culinary perspective from Santa Fe, New Mexico, to the Sunshine State. Previously Executive Chef of Rosewood Inn of the Anasazi, Beas will lead the imaginative culinary team to create a distinctive menu focused on sustainable and local ingredients. One of the distinguishing touches will be grilled specialties from the restaurant's state-of-the-art Josper Charcoal Oven, which allows for cooking at higher temperatures than a traditional grill, resulting in juicer meats that are garnished with a fine ember finish and unforgettable grilled flavor. Signature dishes will include wood oven-roasted mahi mahi with fennel, stone fruit, citrus and ramps; crispy skin chicken with homemade mac & cheese, bacon and broccolini; short rib with sweet potato puree, farro and mixed green salad; whole grilled pompano with wood oven-baked Yukon potato and white asparagus; and top sirloin with spicy roasted romaine and hollandaise sauce.
"Sourcing local quality ingredients is key to creating delicious food, but high standards of execution are just as important," said Edgar Beas, Executive Chef, DUNE. "With the Auberge name comes a benchmark for superb yet uncomplicated dining. I am excited for this new culinary adventure that will be inspired by the natural beauty of South Florida and continue raising Fort Lauderdale's culinary bar."
The delightful fare will be complemented by signature cocktails crafted with house-made ingredients, along with a bar of fresh-squeezed juices. The beverage program will also pay homage to Auberge Resorts Collection's Napa Valley origins with hand-selected wines from Northern California. For a wide variety of upscale wine selections, guests can visit the glass-enclosed wine cellar showcasing more than 600 selections.
Designed by renowned New York firm Meyer Davis, DUNE radiates a sense of relaxed luxury upon arrival. The natural light-filled, dining room incorporates the firm's signature minimalist approach with Mid-Century warmth, pale ocean hues, hand-carved woods, soft leathers, marble touches, handmade tiles, billowing curtains and tropical plants, all framing striking Atlantic Ocean views.
The heart of the restaurant is an oversized freestanding bar surrounded by panoramic views. Here, guests will congregate around lively bartenders fixing up fabulous and refreshing concoctions, while engaging conversations create a welcoming ambiance. For more traditional dining, circular and spacious tables with wide, comfortable chairs and banquettes line the interior dining room. Outdoors, an expansive terrace will be the perfect setting to enjoy a glass of sparkling rosé after a sun-filled day or indulge in Sunday brunch with friends. Uplit trees, lush landscaping, golden sand and ocean-blue horizons create a tranquil, al fresco dining experience.
DUNE will also provide bright, ocean view settings for groups in its three private dining rooms, including the wonderfully adorned wine tasting room that doubles as an intimate dining space for up to 16 guests. Whether celebrating a small wedding or gathering friends and family for a graduation or birthday, the restaurant's events and catering services will help mark the special occasion.
Auberge Beach Residences & Spa is being developed by The Related Group, Fortune International Group, Fairwinds Group and Auberge Resorts Collection, a collection of exceptional hotels, resorts, residences and private clubs, which is managing all aspects of the property. DUNE perfectly complements the extraordinary residential property, where select residences remain.
"Not only are we looking to put our mark on the Fort Lauderdale skyline with Auberge Beach Residences & Spa, but with the introduction of DUNE, we are also aiming to create a new gathering hotspot for neighbors and the community," said Jorge M. Perez, Chairman and CEO, Related Group. "We are in excellent hands with the reputable Auberge team that will bring in their best-in-class hospitality management and culinary expertise to create something special that is unlike anything else in Fort Lauderdale."
"The sophisticated yet casual elegance of DUNE is exactly what the Fort Lauderdale community needed," said Edgardo Defortuna, Founder and CEO of Fortune International Group. "We are very proud to team up with talented group of individuals to make this restaurant come alive."
"We are proud to have served our community for generations at Windows at Ireland's restaurant," said Andy Mitchell, President and CEO of The Fairwinds Group. "Windows was a place of memories and great food. Our goal has always been to stay true to those roots and DUNE is a testament to that vision. As we look to the future, our hope for our residents, the local community and visitors is that they will enjoy the stunning ocean views and great food creating cherished memories in the process. We look forward to welcoming them back to Dune."
A true oasis of culinary perfection, DUNE will set a new standard for dining in Fort Lauderdale. The restaurant and its stunning location will also host ongoing programming and events that will further inspire guests and residents to become frequent visitors.
Dinner will be served daily from 5 p.m.-10 p.m. with lunch service beginning January 2019; brunch will be served every Sunday from 11 a.m.-2 p.m. For more information, visit: dunefortlauderdale.com or call: 754-900-4059.
About The Related Group
The Related Group was established in 1979 and is America's leading developer of sophisticated metropolitan living and one of the largest firms. For more than 30 years, The Related Group has created innovative residential developments that have dramatically changed South Florida's urban landscape. Since its inception, the privately held company has built and managed more than 85,000 condominium and apartment residences. The Related Group has earned a national reputation for its visionary design and development of luxury condominiums, mixed-use center and affordable rental properties – often in emerging or undiscovered neighborhoods. The firm is one of the largest Hispanic-owned businesses in the United States with a development portfolio of projects worth in excess of $15 billion. TIME magazine named Mr. Pérez one of top 25 most influential Hispanics in the United States, and he has made the cover of Forbes twice. The Related Group has redefined the new cycle of real estate with the rollout of over 12 projects beginning with Apogee Beach in Hollywood and Mybrickell in downtown Miami, the first in each of their respective neighborhoods to break ground since the boom. For more information, please visit relatedgroup.com.
About Fortune International Group
The name Fortune International Group is synonymous with excellence and an unwavering commitment to quality and customer service in the world of luxury real estate. Visionary founder Edgardo Defortuna has set new industry standards ever since the company's founding in 1983. Fortune is a recognized leader in both the development and sales and marketing of South Florida luxury real estate with a portfolio that includes residential, mixed-use, condo-hotel and office-condo projects. The company's developments include Jade Residences at Brickell Bay; 1200 Brickell; The Bridgewater; Artech; Le Meridian Sunny Isles Beach; Jade Beach and Jade Ocean. In collaboration with The Related Group, Fortune International Group is developing Hyde Resort & Residences Hollywood Beach.
Fortune is also the exclusive sales firm for some of the most prominent projects in South Florida today, such as Midtown Miami, 1 Hotel & Homes South Beach, NINE at Mary Brickell Village, SLS Lux & Paraiso Bay, among numerous others. Fortune International Group has 13 offices around the world, with nearly 1,000 associates. Its international broker network reaches legions of prospective buyers from South Florida to Buenos Aires, Hong Kong to Sao Paolo, Manhattan to Paris. Fortune International Group's strength derives from the company's ability to define a market and its needs with all forces that shape the industry. For more information, please visit fortuneintlgroup.com.
About The Fairwinds Group
The Fairwinds Group was formed in 2004 by Andy and Kathy Mitchell, who envisioned a world-class facility on the site of the former Ireland's Inn Beach Resort. Based in Fort Lauderdale, The Fairwinds Group, through Fairwinds Development LLC and Fairwinds on the Ocean LLC, led the acquisition of the resort and the procurement of a number of adjacent properties to consolidate the site to 4.6 net acres. Additionally, The Fairwinds Group led the early development team, working with the community and city officials to rezone the site and finalize the design in anticipation of the upcoming Fall 2014 project launch on the beach in Fort Lauderdale. This persistent visionary approach will bring to Fort Lauderdale the finest facility ever built, ushering in the next chapter in Fort Lauderdale development.
The Fairwinds Group's leadership has extensive experience in hotel management and consumer products manufacturing gained from more than 40 years in business. Andy Mitchell, President and CEO, has served in global management roles for several U.S.-based Fortune 100 companies. Executive Vice President Kathy Ireland Mitchell grew up at Ireland's Inn, and her career has spanned all aspects of the hospitality business. Father-in-law Jack Ireland, who has been involved in the hotel and restaurant business for more than 60 years, brings a solid understanding of client services that complements the team's development efforts.
About Auberge Resorts Collection
Auberge Resorts Collection is a portfolio of extraordinary hotels, resorts, residences and private clubs. While each Auberge property possesses a unique individuality, all share a crafted approach to luxury that is expressed through captivating design, exceptional cuisine and spas, and gracious yet unobtrusive service. Properties in the Auberge Resorts Collection include: Auberge du Soleil, Calistoga Ranch and Solage, Napa Valley; Esperanza and Chileno Bay, Los Cabos, Mexico; Hotel Jerome, Aspen; Malliouhana, Anguilla; Nanuku, Fiji; Madeline Hotel and Element 52, Telluride, Colorado; Hacienda AltaGracia, Costa Rica; Mukul, Guacalito, Nicaragua; Mayflower Inn, Washington, Conn.; White Barn Inn, Kennebunk, Maine; Vanderbilt Hotel, Newport, R.I.; Grace Santorini and Mykonos, Greece; Auberge Beach Residences and Spa, Fort Lauderdale; The Lodge at Blue Sky, Park City, Utah (opening Spring 2019); Bishop's Lodge, Santa Fe, New Mexico (opening Summer 2019); Mauna Lani, Hawaii (opening late 2019); Commodore Perry Estate, Austin; and Susurros del Corazon, Punta de Mita, Mexico (opening 2020), with several others in development. For more information about Auberge Resorts Collection, please visit http://www.aubergeresorts.com. Follow Auberge Resorts Collection on Facebook at facebook.com/AubergeResorts and on Twitter and Instagram at @AubergeResorts.
About The Friedkin Group
The Friedkin Group is comprised of a consortium of automotive, hospitality, entertainment, golf and adventure companies. These organizations include: Gulf States Toyota, GSFSGroup, GSM, US AutoLogistics, Ascent Automotive Group, Auberge Resorts Collection, Imperative Entertainment, 30WEST, NEON, Diamond Creek Golf Club, Congaree and Legendary Adventures. The Friedkin Group is led by Chairman and CEO Dan Friedkin. For more information, visit http://www.friedkin.com.
MEDIA CONTACT:
Murphy O'Brien Public Relations
Daphne Barahona | Amy Rossetti
310.586.7196| 310.586.7158
dbarahona@murphyobrien.com | arossetti@murphyobrien.com