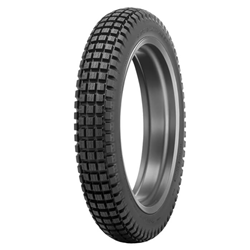 RANCHO CUCAMONGA, Calif. (PRWEB) May 11, 2021
Having to ride your motorcycle from home to the trails and back requires the right dual-sport tires that are also street-legal. Dual-sport tires have to offer maximum levels of grip and balance on tarmac and off-road conditions and they must also be DOT certified. To fulfill this need, Dunlop launched a new street-legal trials tire for dual-sport and off-road riders.
Trials tires are a popular choice within the dual-sport community. The K950 is ideal for riders looking for maximum traction in off-road conditions, as the tires feature smaller, tightly packed symmetrical knobs for optimum traction, balance and efficiency. This type of tire is especially good in off-road sections with roots and rocks or hard-packed single tracks.
Combining the best of both worlds, Dunlop's K950 trials tire is a DOT-certified, street legal, off-road tire known for its durability, performance, and longevity. The even tread pattern and bias-ply construction is designed to take on hard-packed, rocky terrain in wet and dry weather conditions. Using more hard-wearing compounds, Dunlop provided riders with an improved grip and better bump absorption in off-road conditions making it an ideal versatile tire choice.
Available from your local Dunlop retailer, the Dunlop K950 comes in a 4.00-18 size and joins the premium performance D803GP™, Dunlop's competition trials tire.
About Dunlop Motorcycle Tires
Dunlop is the largest supplier of original equipment and replacement motorcycle tires in the U.S.A. The K950 is a choice for those wanting an ultimate on and off-road experience.
For more information, visit https://www.dunlopmotorcycletires.com/.