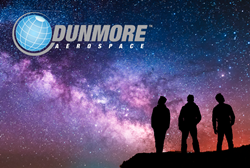 According to the Vice President of Dunmore's aerospace division, Art Mallett Jr., "It is an exciting time to work with companies that are pushing the frontiers of space exploration and commercialization. Our new team members will play an integral role in supporting these ambitious space programs."
BRISTOL, Pa. (PRWEB) May 11, 2021
Dunmore, a Steel Partners company, announced today the expansion of the Dunmore Aerospace team. New members of the aerospace division include business development team members and customer support staff. With the increased demands of the aerospace industry, Dunmore is committed to supporting current and future aerospace customers.
Dunmore Aerospace is a leading manufacturer of thermal management materials for the space industry. For over 35 years, Dunmore Aerospace has supplied thermal management materials for the most critical private and government space missions. Dunmore products can be found across our solar system and beyond on various spacecraft ranging from satellites, constellations, rovers, and launch vehicles. With the expansion of the public and private space sector, Dunmore Aerospace recognized it was critical to expand the aerospace team.
The new team members include Frank Hamilton - North America business development, Keith Lutz - international business development, and Dave Williamson - technical support. Providing technical expertise and quickly responding to time sensitive projects has always been a priority for Dunmore's aerospace team. With the additional team members, Dunmore will continue to improve in this area. The new members of the aerospace division look forward to working closely with the engineers leading us into future space missions.
According to the Vice President of Dunmore's aerospace division, Art Mallett Jr., "It is an exciting time to work with companies that are pushing the frontiers of space exploration and commercialization. Our new team members will play an integral role in supporting these ambitious space programs."
About DUNMORE
Dunmore is a global manufacturer of engineered coated and laminated films and foils with manufacturing facilities in the U.S and Germany. Dunmore produces coated film, metallized film and laminated film substrates for the aircraft, spacecraft, photovoltaic, graphic arts, packaging, insulation, and electronics industries. Dunmore is a Steel Partners company, and is ISO 9001:2015 and OSHA VPP Star certified. For complete information on Dunmore's products, services and industries served, please visit https://www.dunmore.com/.